Saint School
July 15, 2012
This teacher, she's big around the middle. Around the thighs. Around the calves. The neck. She's got straight black hair that seems to p*** her off when it falls in front of her eyes. She's got that look on her face like someone just told her her job doesn't mean a damn thing. She waddles over to these two eraser stained desks pushed together. Two by one mini playing cards are fanned out across them. She huffs for breath as she glares down at the cards.
"There's no gambling allowed in school."
The boy across from me, in blue gym shorts, a hoodie with the sleeves rolled up to reveal one of those silver medical bracelets, size 13 basketball sneakers, he looks up at her.
"We're not gambling," he says. "Look, they're tiny cards. We couldn't gamble if we wanted to." She huffs again, thinking.
"Well the school handbook clearly states no card playing or gambling allowed. You're breaking the rules."
This is her crusade. The highlight of her day. Some look for cures for cancer. But her? She's patrolling the white, gleaming halls of this school looking for gamblers. For criminals. She's lumbering over these waxed floors with the dirt and ash petrified beneath them. The dirt and ash from the bottom of otherwise spotless white sneakers. From the sneakers of otherwise spotless white kids. But maybe she should look for the source of those ashes. Look in our back pockets. In the bottom of backpacks. In our socks. Always tucked away. Out of sight but never out of mind. The sources of these ashes, her and them-everyone-will continue to tuck away. She is waddling around here, solving these worldly affairs of hers. Still she looks for something else. For anything else. Looking for gamblers. For criminals. And in ten years, with that same huff and grumble, some other patron saint of education will patrol these same halls, looking for more dirt and ash to bury under the cold, glossy façade of education.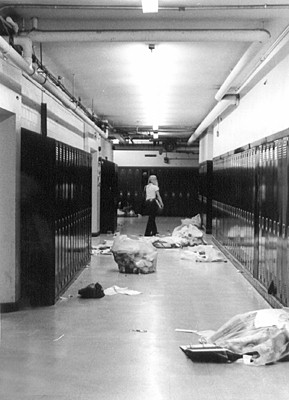 © Halsey S., Marblehead, MA