I'll see her someday...
June 17, 2012
The pouring rain foreshadows
the inevitable for our loved one tonight.
Although she fights so hard for us, for her life,
We've all tried to deny it,


hope for the best.

Satan had his grasp on her life,






oh,
for so many years.
Having mother and I worried, for we
could only have a glimpse of her,
and not very long before we would be escorted out.
But tonight, at this late hour,
all our wishful thinking comes to an end,
even Satan has let go.
And mother and I -
and the rest of us-
surround her.
I to her left, mother to her right,
holding each hand.
All the rest lay at her feet.

A tear escapes from the corner of my eye,


and quickly I wipe it away-



but of course she sees me.
She smiles,
revealing all her love for me,
for knowing me for only so long,
I can see the love she expresses for me...



just in that one smile.
Summoning up all the strengh she has left,
she whispers to me,



"We'll see eachother again,






I promise"
And God takes her.

My mother's composure breaks-
as does everyone elses'-
and they cry.

Except for me, my composure, still calm-


as I am in shock-
I quietly stand and leave everyone in a heartbroken state.





No one stops me.


I escape out the door into the rain,
Running for what feels like an eternity.
The sound of cars distant, reflects an echo
on the street that I am on.

I collapse on the sidewalk, still in the pouring rain


at which it disguises my tears.

"Why did she have to go?"




I whisper.
No one answers but the mocking rain that comes from the sky.
I hear the quiet footsteps that come from behind.
I don't turn around but I feel the gentle touch
of a hand lay on my shoulder, and I feel relaxed.

Tomas sits next to me and I lean on him,
as he says "I'm sorry"
and I cry as he rubs my back trying to soothe me.
I think, "At least she's in a better place.




I'll see her someday perhaps."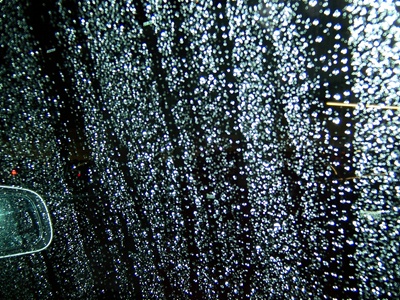 © Jessica L., San Jose, CA