The Fraction
June 19, 2012
My name is unknown. I serve a purpose.

I hold two things at once. I am told I am strong; I believed I was. I try my best to hold the one above me, and the one who needs me. I am a line between two numbers, I'm your pillar when I've got myself mine.

But that's not my purpose.

I am at least a bit of your everything, even when you don't notice it. I am a piece of your cake, a session of your day, a component of your soil, a continent of your beloved earth. I serve one purpose; to be a part. To have a role. To perceive an information as a whole. My creator invented me and poured me down to his world, he thought I could be an advantage to his kind.

Yet he never thought I could be this big.

There was something unfair about his life. He never made it as far as I am now. He died, and I live on. I shouldn't have lived longer than him, for I am his innovation, for I was born after him. I guess not everything that you came from is stronger than you are, and I am forever young. I whimpered and whimpered for his departure but no one ever listened to me, let alone ever glanced at my voice. I only cried a fraction of tears.

A fraction. That's all there is to my entire life.

But I ended up being useful for my creature's kind. Not a second I was alone. There's always a billion out here who will paint me down into a sheet of emptiness. But I'll never suffer solitary, because they are all jotting me onto a paper, into a computer, sometimes a big wall for the sake of art. I feel like I have traded my creator for these people–humans, as they are called.

But popularity comes with a price.

Popularity never guarantees that you will get what you want. All you know is that you want it, you know what to do with it, but it never, ever strikes you whether the pay is worth it, or if ever, of existing. It comes with terms and conditions under an invisible ink. It is set and ready in a bling bling package. It even plays a cruel mind trick on simpletons.

I am a simpleton.

And popularity never guarantees people as lovely as your author.

I have lived for centuries and not even a strand of gray hair has ever emerged. Not a wrinkle has folded. Not an ill have I been diagnosed. Not even a scratch on my clothes.

But I feel old already.

With my being can only be noticed and appeared into my creator's world by humans' hand, I'm very ignorant about what's happening out here. I can't help but to eavesdrop…but sometimes they talk to me.

Obliquely.

And heartlessly, apparently.

I'm not self-centered; I wasn't made to. I serve a purpose, and as years go by until I'm lying on the spot I'm being written down, I have learnt that my function is to help humans. I've never met anyone but them. Different faces everyday, with different occasions to use me. But mostly I encounter the same one, the audience that takes most of the percentage; seemingly soft and young-looking faces, in uniforms and casuals. I could almost reach out, as though I ever had a hand, and conduct their warmth. Some solve me right, and some render me wrong. Then I'll see an older looking human come and say, "It's okay, they're just mistakes. You'll get it right."

Instead.

Instead of getting to the bottom of my problem, they cry. They curse. They try, try, and try but end up worse. The same impression always hits me. Calm him. Soothe her. Don't let their weep get louder. My heart always tells me to but no fingers surface on both sides. I don't know what to do. What should I do. Don't cry, I'm sorry I'm such a trouble. I know someone else will come for them, but guilt never fails to sweep through. They'll always find my flaws and plug in, like my entire existence is an endless trip of holes and hidden traps.

And I realized later that I'll never get my mistakes right; it doesn't apply to me.

I'm no human. Is it because I wasn't made a heart? Is it because of my disability? Tell me what is so imperfect of me that I'm such a nuisance to you, little children.

Useless isn't it; a request of advice by a mute man.

There are times when simple life values you have been taught about, or in may case, I have overheard for centuries, are just not relevant. There are times when your confidence fails you and alters into desperation. You just don't know which part you are in, because there's a really thin line between the two. Then again, there's nothing wrong with the freedom of expression.

And.

And no one will notice you, anyway.

Why didn't you put a pair of hands on me? Why didn't you place a voice box in my lungs? Why can't I breathe but I'm still living? Why can I feel but I don't have a heart? Why can't I move but only they who can move me? Why is it you made me such a rigid, inhuman, and immortal creature to begin with? Why did you assign me a purpose I have to question? Aren't you my creator and all I have to do is listen?

Why did you create me so simple? I wanna live and thrive, too.

As heartless as I have always become, I only have one belief that I never loosen a grip of.

The simplest things come from the most complicated minds.

I have heard that suicide attempts are a sin, so deadly that they play a cruel, cunning scheme on humans' mind. Come, come closer. There'd never be a bother anymore. Come, come to me. You'll live on unearthly places you'll see. I don't know if their place is so cruel to the extend of draining his life force, or they're under the illusion of beauty, eventually captured by temptation.

I have suicidal minds. I long for death so serene, so composed, not even a memory would dare to creep me in. I have been insomniac for who knows how long, and I only desire one thing; sleep.

However I'm aware that it is an unattainable desire.

For I shall be reborn, forever.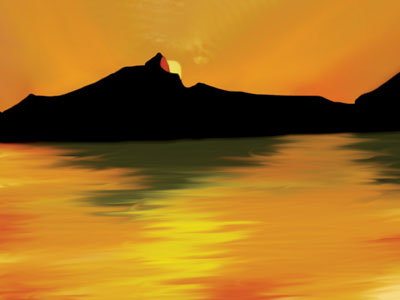 © Rachel M., Camarillo, CA