Escaping From Personal Monsters
June 12, 2012
I snapped my fingers. A sharp sound, ripping, tearing through the air. I grabbed words, made them real, cupped them in my hand. Not quite solid, not quite liquid...silver, luminescent, so close to water. Piano notes tinkled through the air, chimed. I heard people talking to me through a hazy cloud; their words traveled over my head as I immersed myself deeper into the other world. Words turned to sand and dribbled through my fingers as I failed to catch them fast enough. My fingers began to turn blue, black. They began to grow brittle and break. I watched as my hands crumbled to dust. Looking up, I saw my reflection...purely black. It smiled, hideously. "What's the matter?" it asked me. "Feeling a little...lost?" It bared its teeth in a grin, white contrasting sharply against black. I screamed, splitting the fog, the mist, the doubt, the pain, the tears, the rain, the feelings. Gasping, I sat up in my bed, the sheets tangled about my legs, the rain thrumming on my window, the room cold. Cold sweat dripping down my face as I took deep breaths, one, two, three, breathe in, breathe out. I saw red eyes watch me from the closet. Quickly, I closed the closet door and the door leading into the hallway. Sitting back in my bed, looking out the window, I saw my reflection.
"What's the matter?" it asked me.

"Feeling a little...lost?"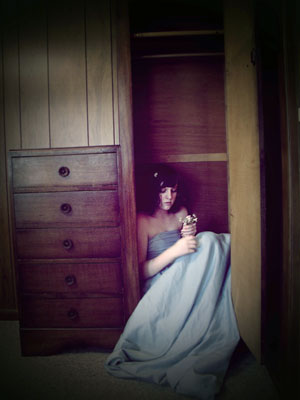 © London W., North Little Rock, AR