The Barking Bus
June 14, 2012
It was an ordinary MONDAY. How ordinary is the word ordinary. No surprise, no shock in the word. But if we sit down and think about our 'ordinary' life, we will find that there is nothing ordinary about it. We might see almost everything everyday but there is always a diversification in our feelings. We never notice much when its ordinary. But my ordinary morning turned out of the ordinary.
I was rushing for the expressway bus, the only bus which goes to Southwall St., where my daily torture takes place. In other words, where I work.
Luckily, I reached on time. Inside, the bus looked the same as it was last Friday. The same old driver, grey seats and a shabby old staircase. But what was that?!
On the grey third row seat sat a growling brown colored German Shepherd!!!! I hate dogs. I never liked them, and I was sure I never will. I was furious. I hated dogs ever since I was chased by a black angry Rottweiler. That was then. After that I stayed away from all dog species. Quite disturbing don't you think?
Well there I was staring or was being stared at by a beast in a bus which was just about to move. I had no choice I had to sit down with the dog, I looked all around the bus but could not find another empty seat.
The bus driver said, "when your good and ready, Sir", sarcastically. He did not understand that if I sat with the dog then I would not stay alive to tell the story. So, very politely, I demanded that the dog be taken out of the bus. The driver said that the Dog is a Police Dog, for security reasons, it won't do anything to you.
I had nothing to do but agree with the driver. I went to the seat where the dog was putting his head out of the window. I always wondered why they did that, I thought that they get freash air that way after all the places they have been. But this was a watch dog, a watch dog indeed.
I could determine that because the dog stared at me practically for the whole jurney. That wasn't bad enough when as the bus stopped the wild dog began barking. I was frightened. I didn't know what to do. I thought the miscreant was barking at me.But he saw what I couldn't, and to make me see he pushed me of my seat, and kept on barking at the window. I thought the dog was mad but he wasn't. We then heard a noise…. The bus had a flat tire!!!
I then saw the barking, bloodcurdling dog was a life saver.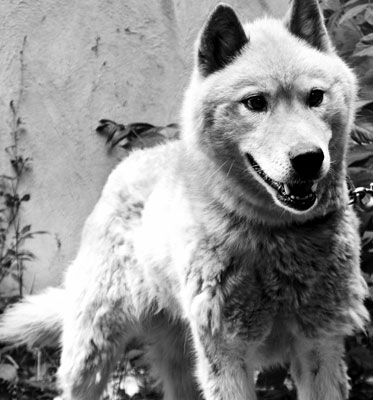 © Mike A., Newark, DE