"Cinderella" as told by a valley girl.
June 11, 2012
So once there was this totally super pretty girl named Cinderella whose family was like, totally unfair to her. Her dad had remarried to this totally evil step-mom who had two, like, super fugly daughters.
So when this girl was sixteen, there was this kinda okay cute, but really, really rich prince guy having a ball at his place, and people were totally saying that he was gonna pick someone to marry who went to it. And that chick would be like, the queen of the whole kingdom. So Cinderella was all like "Yes, pleeease," but her step-mother bitched out about her not getting her chores done. But like, even if Cinderella hadn't done her chores for over a year or something, her two fugly step-sisters probably hadn't done some either! So Cindy was stuck behind because, like, there was totally no way she was going to get the dishes washed and her laundry clean in time. It'd take, like, hours. Her stupid evil step-mother and her stupid fugly step-sisters got to go and Cinderella, the only actually pretty one was home on a Friday night.
But then, all these mice, like, came out of nowhere and said they do all of Cinderella's chores, even though they were, like, a thousand times smaller than she was. They were pretty gross, but whatever. But then, Cinderella realized she totally didn't have a new enough dress to wear! Cinderella seriously like, started to cry again, but luckily this totally cool random old lady told her she was like, her gay god-mother or something and just gave her a totally cool new dress and ride, along with some super hot shoes. She also wanted Cindy home by twelve, but like that was gonna happen. When Cinderella got to the ball, the rich prince went totally nuts for her and was all like, "you're so pretty" and stuff. But it turns out she really couldn't stay after twelve since her clothes started to fall apart. How dumb is that? That was okay though cause she managed to make it back home before she was, like, totally naked.
The next day when Cindy was wondering whether or not she should go snag the prince, he showed up at her door. Which kinda ruined her whole "playing it dumb" act with her steps, but whatever. Turned out the prince had been looking all over, like, the entire kingdom for her, using only one of her shoes as a clue. Which was super creepy and clingy, but he was the prince, so who wouldn't marry him? So Cinderella lived happily ever after as like, queen, while her stupid evil steps had to totally bow down to her and all that stuff.

Moral of the Story: Pretty girls always get what they want.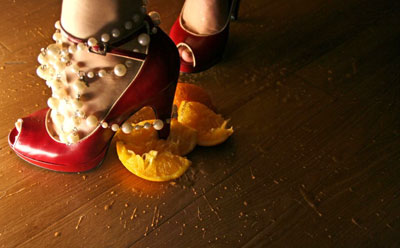 © Amber L., Carpinteria, CA