The Liar's Palace
June 6, 2012
It is beautiful on the outside, but if you dig deeper, look within the castle, it is empty.
It is glorious to behold – the tall, elegant white spire with polished bricks of ivory and a roof of gold, with a red pennant hanging at the top. But there is no wind and the banner hangs limp, and though there is a window just below the attic, there is no princess leaning out of it to comb her long golden hair. The courtyard is picturesque, with mighty oaks spreading their branches over beds of pink and white roses, lilies of the valley, and daffodils.
But where are the people going to and fro about their business, where are the rabbits that made the burrows under the hedges, and where are the proud falcons that have nested in the highest branches of the tallest tree? The stables and the dovecote are empty, there are no mastiffs or boarhounds or even spaniels in the kennels. When you walk through the sturdy old wooden gates set into towering stone walls, you enter a realm of silence.
The only person who lives here, in this painted, gilded place, is the groundskeeper. He is an ugly old man who speaks truths you don't want to hear, wears a perpetually dirty old vest, and always has a battered brown pipe in his mouth. He turns up when you least expect him. Fumes of smoke hang all around him in swirling grey mists, and the pungent smell of tobacco clings to him. His job is to keep people away from the palace so that the glittering illusion is not spoiled, so that they don't know about the true emptiness within.
Yes, it is a beautiful place, The Liar's Palace – but don't go in. Or you'll never get out.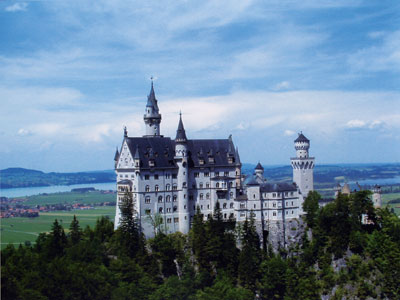 © Trenton O., Highland, UT