7 Sins: Greed
June 3, 2012
You could drag a snake out of it's hole. You are able to toss around people's insanity and faith in all things human. You are a God with no morals. You are an animal with a ego so large, it could conquer the whole world. When a human dares to challenge you, you become enraged and kill them ruthlessly.

Do you have no hope? Can you not see the light? But you met her. With a face so beautiful, it could charm any man. You swept her up and took her to your garden with no way out. Left her there and treated her like a treasure on a shelf. She lost all goals, all of her humanity. She became a empty shell with no soul, not a trace of feeling. Puzzled by this, you asked her,"What holds you back so? Are you not willing to talk to me? Or is it that you miss your humanity? What if i gave you all the precious gems in the world? Would that make you happy?" She never responded, only continued to gaze into the nothingness of the garden you have stuck her in. One day, she replied,"You understand not a single thing. You do not know how treasure anything. Do not know how to feel, nor do you understand the complexity of a human's heart and soul." Shocked by this, you opened your mouth to speak, but stopped yourself at the sight of her eyes. Red and swollen with tears and still gazing into the nothingness of this garden which will soon become her grave.

Days turned into years, years turned into decades, and decades turned into centuries. Not a word spoken between you two. You only continued to watch her, still not understand what has gone wrong. One day, she dissappeard, leaving you alone to unravel her words.

She passed, and her memories spilled out into the garden. In those memories, she was smiling and laughing with a family. You stood there, shocked at how this was. You only fell to your knees , regretting nothing. You whispered, I guess i should have brought her family as well." Not even realizing it yourself, tears ran down you cheeks and you gazed into her smiling face.

You learned what 'Greed' is.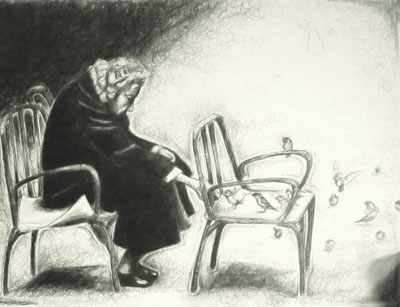 © Anna P., Poulsbo, WA