Arizona Sun
May 25, 2012
It all started as a harmless idea, vacationing to Arizona that is, until it came time to return home to my deceased reality in Oregon. I have lived in Oregon my whole life and both my mother and father's families were born and raised there; but for me was that a legitimate enough reason to stay?

It was another rainy day in Oregon as I approached the Southwest Terminal. Being a nervous flyer, I was already one and a half martinis in at the PDX bar. I felt more relaxed at the thought that in three hours I would be landing at Sky Harbor International Airport in Phoenix, Arizona. I had no business in Phoenix until recently when my best friend, Robin, and her husband, Marshall, moved to a quaint suburb outside of Phoenix by the name of El Mirage. It had been months since I had last seen them and I was long over due for a visit. The man's voice on the loudspeaker abruptly announced that flight 284 to Phoenix was now boarding. I grabbed my carry on and proceeded to the plane. This is where my vacation began, and little did I know so did the tough decision I would come to face in two weeks.

Upon my arrival, Robin and Marshall greeted me with excited hugs and helped carry my bags to their car. The whole car ride was filled with the plans they had in store for me, how their relationship had flourished since they have moved, how nice their new house was. They really seemed happy, which came as a surprise to me because all I heard from their families back home was how much of a mistake they have made moving so far away. A spare bedroom and bathroom in their home was to be mine for the length of my stay. It was nearing midnight by the time I finished unpacking, so I bid them both goodnight and went to bed.

The next several days were crammed full of sight seeing and shopping. From famous restaurants, big malls, and Lake Havasu, Arizona was so beautiful and every step of the way we were always accompanied by the sun. Oregon was under a dark rain cloud a majority of the year and never received a sun this bright and warm ever. I felt as if I wasn't even on the same planet.

Out of all the places we visited my favorite wasn't far from the house. I loved just laying by their pool soaking up the heat. No matter how hard I focused on my personal issues they all seemed to just melt away leaving a sun kissed tan in return. My only negative thought was having to leave in a few days. The gut wrenching feeling it left lingered in the pit of my stomach. Regardless though of this thought, I couldn't recall the last time I had smiled this much. I had good food, great wine, the sun, and my amazing friends to share it all with.

This new lifestyle had given me a new perspective on my everyday living. At home I was stuck in a repetitive rut, living my days in the same boring routine. Wake up, go to work, have lunch at the same old café, come home to my cramped over priced apartment, pay the extensive amount of bills, and go to sleep. I had always lived my life in the safe zone while I witnessed what seemed like the rest of the world enjoying their youth. Being only 24 I gave off a vibe beyond 60 years of age. People always expected everything of me and I was tired of being THAT person.

A few days later by their pool, I confided in Robin about my recent thoughts and feelings. She had always been my closest fan and the one person who didn't hold me up to such high standards. She was there during our drunken nights at McClellan's Pub, through the strand of men I probably shouldn't have dated, even when I flunked my first college exam. Robin saw me as a human who made mistakes, but stood by me anyway. She listened intently to every worry I spoke like the Robin I know she had an excellent suggestion.
"Why don't you move down here with us? We can rent out our spare room out to you."
My initial reaction was my same old line of excuses when situations made me feel uneasy; work, my family, money. As the offer sank in it didn't occur to be that horrible of an idea. After all I do everything for everyone else and put my own happiness aside. I'm done with that. It was time to put me first because for once in my life I wanted to achieve personal happiness.
As I basked in the excitement of change my mother's face entered my mind, followed by my boss, grandmother, sister, and nephew. All of them still live in Oregon where my original life is. If I moved I would miss my nephew growing up, my grandmother's final years of life, how hard I've worked for that promotion to finally move up and leave my dumb position and boss behind, and most of all my mother would resent and be disappointed in me from here on. It would be rough finding a new job and leaving behind so many important people, and in the end if I moved I would be the only one who benefitted. I would be frowned upon by everyone I knew, but was this worth my happiness?
Robin had her final glass of wine and left me poolside with half the bottle remaining. I had nothing left to do today, but lay in the sun and pour me another glass. That's exactly what I did. I leave tomorrow to go home, but would that only be temporary or my saddened fate? The bottle had reached empty and the sun had gone down and I decided to put my life choices on hold for the night. I wasn't thinking so clearly anymore anyway. Marshall, Robin, and I enjoyed several old movies from our youth and a couple rounds of a dice game we called Farkle before I retreated to bed.
Today was decision day. I either went home to pack and start my moving process or stay in Oregon and resume my usual routine. I laid in bed until I forced an answer out of me. The same thought I conjured up yesterday at the pool replayed through my mind. It seemed like hours flew by as I laid there thinking, when it had been only 45 minutes. After 45 minutes I had my answer. I came to the conclusion that I always acted upon what my common sense said to do, but never my heart and gut feeling. This trip for me had been exhilarating and I experienced life. From now on I will experience life. I am putting my heart first; Arizona will now be my home.
I ran to Robin, who was eating breakfast with Marshall in the front of the T.V., and told her what I had concluded. They were both thrilled to welcome me in as their new roommate.
As they dropped me off at PHX it was a good feeling to know my goodbye was only going to be short. I boarded my plane to Oregon confident. I felt like a whole new person had replaced me. The responsibility of my decision haunted me. Tomorrow I will have to put my two weeks notice in and tell my family. I could still visit Oregon when I had the time and for once I will be happy, but for the remainder of the plane ride I'm left to hopelessly ponder what my family and everyone will forever think of me and my decision.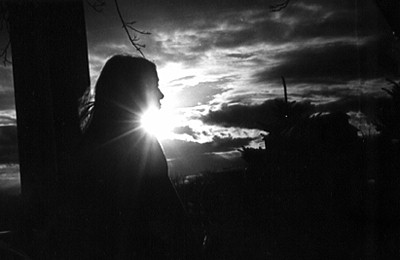 © Elizabeth G., Marblehead, MA