Is it so?
May 27, 2012
The wind softly ruffled through the leaves as her eyes focused on something in the mountainous landscape that surrounded her. Her eyes were entranced, not with the beautiful environment that surrounded her, but on the one single person that stood stoically in front of her. Her eyes slowly roamed his face, memorizing, remembering. He was still. Their soft breathing could be heard through the sobbing wind, echoing in the stillness of nature. Though this was not the first time he had spoken those heart wrenching words to her, it created a hurt in her that was too dreadfully devastating to describe. The coldness of his tone seeped into her bones as she frightfully remembered the first time he had said that awful phrase. She shuddered with the remembrance of that day, and all of the agony it had beheld. The memory was one she dashed away from at her fastest pace, as well as the one she held most dearly to her heart. It was a memory of hurt and pain, as well as perseverance and strength.

His mind was a cobweb, twisting and turning with insecurity and anger at what he was doing. He was upset at the situation, wishing that he hadn't needed to hurt her once more. His emotions slowly began to flicker across his face like an old black and white movie. The hurt and confusion in the air was palpable. Was it really necessary to hurt her once more? In a way he had promised to never hurt her again? He saw how deep the hurt ran as he looked into the windows to her soul. He reasoned with himself, trying to justify the meaning behind his words and actions that it was for the best, in the long run, that it would be better for her if they were no longer together. However much this made sense in his head, he knew that it would never comprehend in his heart, or hers. This was a necessary evil; he had many reasons that were a good solid grounding for why this had to happen, what they were however, well, he was somewhat unsure. He knew that the mere soft whisper of her asking "Why?" would break him and his heart ached for her to say it. Say the one small word that would bring them together once more, whether it be for a few moments, or a lifetime.

His heart raced frantically, beating against his chest in an unhealthy rhythm. She slowly stepped closer to him, measuring her steps one at a time, as if she was approaching a wild animal. He watched as she struggled to find words, words that would make this right once more, fix what he had said, take it out and delete it from their world. She reached her hand out towards him, acting as if to lightly touch his arm, but as she extended it further she slowly began to drop it to her side once more, while hanging her head down in sadness and frustration. His heart sank as she took a deep breath, gathered herself, and began to slowly traipse past him. The sadness radiated off him as he fell to his knees in anguish. He knew he had no right to be upset, it was all his doing, but as much as he knew it was necessary he still wished that they would have fought harder to stay together, knowing that nothing could beat them, except evidently, his words. As he sat in the soft grass, not really seeing, not really feeling, he heard a soft whisper of the wind. His head shot up and he slowly glanced around behind him to see her standing there with a questioning expression.
"Why?" She whispered once more, aching to know the answer. His eyes lit up as he realized what she had asked and he smiled at her. Before she knew what was happening she was swept up into his arms and this time, they both knew it was for sure, they would never let each other go.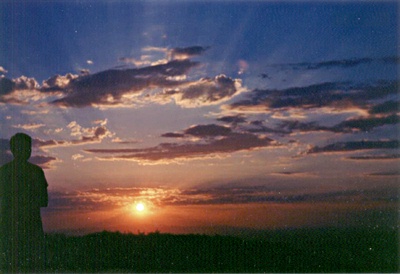 © Jovee B., Dededo, Guam