Trapped
May 22, 2012
"Marissa!" Mr. Fleming yelled. Marissa's eyes shot up from her phone screen to look directly at him. "Again with the phone?" he snapped. "Phone. Here. On my desk."
"I was just, but I needed to, I'm not..." she tried to protest but couldn't come up with an excuse fast enough. She hesitantly shut her phone off and walked slowly to where he sat.
"Sometime today, Ms. McNeil," he said with a hint of sarcasm in his voice. It seemed like the class simultaneously chuckled. She should feel bad, but lately, all she could think about was him. Even though she is only a sophomore and he is a senior, she knew that he really loved her. He was probably blowing up her phone with text messages right now, wondering why she wasn't texting him back. He worried a lot, and got mad when he worried. Tonight would be interesting.
She went back to Mr. Fleming's room after school to get her phone.
"I'm worried about you Marissa. You don't seem as happy as you used to be. You aren't paying attention in class, and you haven't turned in a homework assignment in almost a week. Is everything okay? This is just so unlike you."
"Yeah, everything is good. I have been busy lately." Lying had never been a strong point for her. Her mouth said she was fine, but you could see the truth in her eyes.
"Well, let me know if you need anything." he said. He didn't believe a word she said, but there was nothing he could do.
Silently, she grabbed her phone from where it sat on his desk and turned it on as the door slammed behind her. Twenty-seven unread text messages! Two from her mom, one from her friend Paige, and twenty-four from Jacob. Wow. She read Paige's first.
"Hey girl. Haven't seen you in forever! Hang tonight? Miss you." Delete. With Jacob, she never saw her friends anymore. Then she dove into reading the endless messages from Jacob. It escalated from, "Marissa, what's going on?" to "Seriously? I guess you don't care about me at all." As she began to read the third message, someone came around an unseen corner and pinned her shoulders against the lockers.
"Are you kidding me?" he shouted angrily. "Why didn't you text me back? I've been worried sick that you were with another guy."
"I'm sorry! Mr. Fleming took my phone when I was trying to text you." her voice grew weaker with every word she spoke.
"If you loved me, you wouldn't be so stupid." He removed his fists that pinned her to the lockers and started toward the door.
"Wait. No. I'm sorry. I really love you. Come back!" Her voice reached the end of the hall just as he exited. Tears streamed down her face as she slid against the lockers ending up on the floor. Why was it that the person that made her feel the best, was also the person that broke her down? The further he pulled away, the more she pulled back. She clung to him, for he was the only person that she had anymore. This wasn't Marissa. But who was?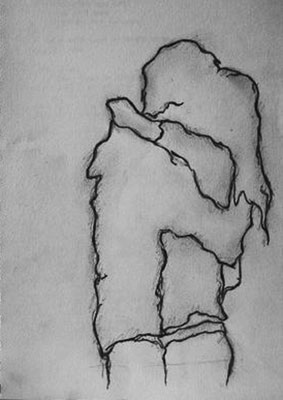 © Nicole B., Newcastle, WA