THE REAL CIVIL WAR
May 23, 2012
The union was marching into the battle of Gettysburg. All of a sudden a giant robotic T-Rex popped up and attacked the confederates! But then, out of no where, Bill Cosby came in a shining suit of armor and a two edged sword. He attacked the T-Rex until it was defeated.
The union thanked Bill Cosby. But then, it started to hail. The ice chunks were as big as a mini-van! But a portal started to open and a ice eating gorilla came out and ate the ice and the clouds. The confederated kept marching.
But then a giant gingerbread cookie attacked the union. It crumbled to bits… they were relieved. But then, an evil chicken from outer space came and ate the confederates.
Minutes later gladiators started falling from the sky and demolished another row of confederates. The union fired. One gladiator said, "what sorcery is this?!!" then a wizard from another planet came and made the gladiators disappear. Then the wizard disappeared.
Confederates kept coming… "They shouldn't even have this many soldiers left!!" Screamed a union soldier. But all of a sudden they won!!! The confederates disappeared.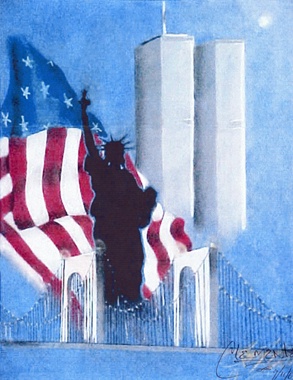 © Christoper C., Far Rockaway Queens, NY