Cherry on top
May 19, 2012
-I'd like a double banana split with chocolate syrup please.
-coming right up.
she, waiting for her desert, took a sit at the closest table. The warm pink walls and the smell or sugary sweets brought back long forgotten memories. She remembered Cotton Candy Cafe and its chocolate colored round tables, vases filled with tiny fruit flavored candies. And The smell, how could she forget the smell of newly baked cookies. They both loved it so much. She and her friend, both used to buy amazing vanilla cookie rolls. Ice-cream in Cotton Candy was probably the best ice-cream she had ever tasted. The huge various favored scoops with chocolate topping and a cherry on top, The famous Cherry Colored Happiness indeed brought delight to everyone who dared to taste it. Ow, how strongly her friend believed in this desert with childish innocence and naivity... One Cherry Colored happiness and she was filled with joy for a week...
-Your banana split
-What?!..
-Your banana split ma'am- repeated the waited intruding her day dream
-Oh! Thank you...umm...could you..put a cherry on top?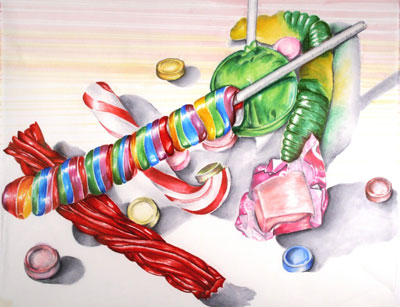 © Jamie B., Fairport, NY