Circle
May 12, 2012
That night I walked, a little faster than I usually did, and a little farther too. I walked and I walked until the trees closed around me and my vision blurred. I didn't know where I was going; I just had to get away. I had to get away from them, those men. They sneered at me and remarked on my figure. They were going to sell me I knew. As they sat around the campfire picking their nails with their blades, they let me roam freely and without guard. So today was my day, I would leave those men with their bulging eyes and grabby hands. I'm leaving, I thought as a twig crunched behind me.
Blood cold, I ran into the night, into the blood of the forest. I was lost but I cared not, as long as I got away. Again the twigs crunched. With every pace I took, they crunched. Runing. Running. I ran for my life. Stupidly, I glanced back. The trees hindered me from clearly defining the features of my pursuer. Was it Meaty, the fat chef who spit at me, or Rough Beard, the skinny slime with the grabby hands, or worse, it could be Captain. I hoped it wasn't Captain.
I stumbled. My pursuer was almost upon me, I could see the inky black outline of their form yet I still couldn't tell his features. I cared not, not really. I scrambled up, my feet slightly loose from my body. There. Ahead. Light. People. Hope. I ran for the light burning in this dark. I was slow and weakened with exhaustion but pursuer was upon me now, I could feel the heat of his breath at me neck. The warmth of his body practically engulfed me, but I was almost there, almost to the light. I felt him on my arm, moist and wet, just before I broke the tree line into the light.
"Please!" I screamed slowing my feet, eyes closed begging for help. Gunfire. Loud and sharp. Silence. I was still alive. Slowly I opened my eyes. Captain grimaced at me the gun in his hand. I choked up. Wishing to hide my tears I faced the ground. Blood pooled at my feet interrupted by large drops of my salty tears. Is it mine, I wondered. Then I remembered my pursuer. I turned around, slowly. A deer was dead.
"Dinner" Meaty said and Rough Beard cackled. I had made a circle.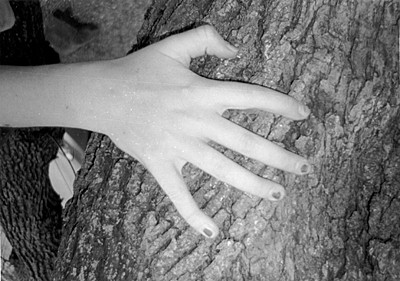 © Abby O., Marblehead, MA