The perfect melody
May 12, 2012
How it sounded, how it felt, how my ears analyzed it, how my soul melted with it. It was just…it. I couldn't stop, and I didn't want to. How I wished to never stop, to keep going on like this for eternity. It was the best feeling of all. His voice, my voice. How the air got out from our lungs and souls. They melted, but in different rhythms, in different mixes. I could know the difference between our voices, but at the same time they were one.
The rhythm, the notes, the movements, the coordination, the passion being expelled from us, was extraordinary, just perfect. I kept moving my hands swiftly, with the guitar pick naturally being held by my hand. It was like if the guitar and I were one, the same person. I closed my eyes. I traveled to another world. Not one created by words nor descriptions nor any kind of visual information. One created with the emotions that the song transmitted me, the excitement, the joy, the passion, the concentration, and just the feeling.
I can't tell you accurately how it feels to play it, how to make it, sing it. It's just amazing, how the music posses you. The notes, the movement of your fingers, the lyrics, it all just comes alone.
Yes, maybe you'll change it after. You may laugh about it after, remember it, and compare it. But at that moment, in the same instant it is born, it captures your heart. It captures your whole soul, but is not planning to let it go and escape. Not until you finish it. It is not a prison, for you don't suffer in it. It is rapture, by that secret friend you have. That friend that plays with you, your feelings, and plays you jokes. You don´t know it, but is there, and you are also its friend.
When it comes, it feels like a rain next to a river. The rain is the melody, the river the lyrics. The raindrops fall in their own rhythm, whenever they choose to fall. And the river, always flows, but follows the rain.
You get out from reality. You get a conditional escape from prison to be kidnapped. That kidnap is good because it takes you out of torture. But it leaves you sequels. Memories that you will never be able to get rid of. So you just enjoy it while it lasts.
Then I opened my eyes. I couldn't stop the urge of following the rhythm. It all starts with your feet, then your arms, and goes to your whole body. You start dancing and following the music. Can this last forever? You realize that it can't, but you don't give up your hopes. Then you move left and right. You can't help the feeling. The feeling of the music running through your veins, flowing and reproducing in every and single cell of your body.
Do I dance badly? Did I miss that chord? You don't care. You are just yourself, with the music. Only the both of you are in this world, with no one else. Nobody tells you what to do, how to be. You give a whole knew form to yourself. You are reborn.
Then, it ends. I look at him, directly into his deep sky eyes, penetrating his thoughts. The song was amazing. We just had made a song together. I run into him, and his lips touch mine. We start again. We called it : Our song.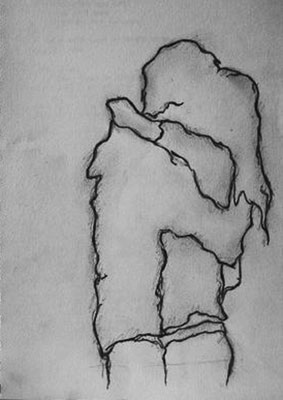 © Nicole B., Newcastle, WA