Snow Days
May 12, 2012
Charlotte walked down the snow-covered sidewalk. Her boots made a very annoying noise with every step. She wanted to stop walking. She couldn't stand the noise. Luckily, she was approaching a bench. It didn't look very comfortable. Despite the lack of comfort, she sat. She began to think.

Charlotte heard another noise, the same noise she sat down to get away from. As she attempted to block it out, she heard a bottle shatter on the sidewalk that was snow-covered. She wondered how that was possible. She looked up to continue to ponder and saw a boy standing over it looking confused. She knew the boy. She decided to ask him a question.

"How did you do that?"

"Do what?" the boy that was her acquaintance answered.

"Break glass on snow."

"I don't know."

"You just did it." Charlotte was becoming annoyed.

"You can do many things when you've drank a bottle of Scotch."

"Or fewer."

"I think more."

"Okay. How did you do that?"

"I am clumsy and drunk and careless."

"You are that, but talented to break a bottle on snow."

"The key is to bid the Scotch farewell as you drink it."

"I don't drink mucho, so I wouldn't know."

"That's too bad. It's raining."

"Yes it is. I have to go home now."

"That's too bad. Goodbye beautiful."

Charlotte began walking away and the noise her shoes were making continued. She smiled thinking back to the last comment the boy had made. She never felt pretty anymore. When she got home she looked into the mirror at the person who was herself and took her hair out of her bun and she felt good. She continued to reminisce on the conversation with the boy and the Scotch bottle that broke on the snow. Today was a day that was good unlike most others that she had recently. A smile was on her face as she laid down to bed with the boy's face in her mind. She did not have to say farewell to a boy's arms anymore. She could now say hello.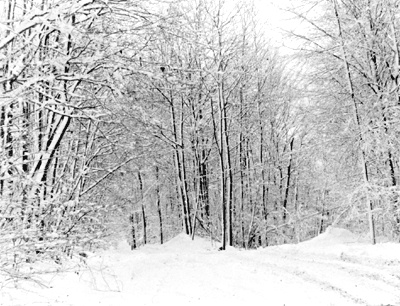 © Thomas S., Portville, NY