Don't Look Back
May 1, 2012
A little kid walked along the carpeted corridors of her apartment, one of the most luxurious apartments in her city. With endless chattering and feet that wouldn't sit still, her Pa had a lot in his hands.

Little Katherine, barely six, had a mind filled with simple things like fairies and princesses who lived at the top of palaces. She figured because her house was a tall building, a princess must live at the top of the building. After all, princesses only lived at the top of the palace. Whenever she looked up, all she saw was a crimson-colored curtain waving away in the wind. She made up her mind that she would visit the princess.

Taking up the elevator on her own, she felt so proud and big. But when she got to the princess's floor, all she saw was a little boy, about her age with startled brown eyes. He stared hard at her before putting his finger on her mouth and whispered, "Ssst! Be quiet! My mother should not hear you. Into the elevator!" With that he pushed her back into the elevator, and pressed 1. With twenty-seven floors to go, the boy started talking.

"My mother doesn't allow me to see other people, or to talk with them. She said we have to stay in secret, so we would be safe. I'm Sebastian, by the way," he said awkwardly, obviously not used to human speech. Little Katherine's mind caught only one thing. The one living at the top of her building was not a princess. She started crying.

Confused by the sight, Sebastian continued talking in the hope of stopping the little girl's tears. "I shouldn't even be outside my apartment. But Mom was taking her nap, so I thought I could sneak outside for a while. I'm sorry for getting you into trouble," he said.

As the two reached the apartment's lobby, three men in black ran into the elevator. Katherine was oblivious to the three men, but Sebastian's eyes widened in shock. "Men in black… Why are they here?" Katherine saw Sebastian paralyzed in shock, and she pulled Sebastian to the emergency stairs, knowing that the elevator was used by the men in black. They headed to her apartment, only to find out that her apartment was empty.

"Pa? Pa! Where are you?" Katherine started to panic. Sebastian realized who the men in black were searching for. Scanning Katherine's apartment, he saw a familiar face. A male face, hugging little Katherine in his scarred arms. He remembered those scarred arms, her Mom used to have a visitor with scarred arms just like those. Those arms used to lift him up in the air when he was three years old, which was four years ago. He tried to remember who this man was, why was he so familiar…

Suddenly, it hit him. His mother wasn't the only one the men in black were looking for. Mom had reminded her all too often of this. He could distinctly hear her voice, her trembling voice, telling him, "Sebastian, listen. If you see three men dressed in black in a rush, they are probably after me. If that happens, run. Find the man with the scarred arms. He is my friend, he'll remember you. He always lives near us, so you won't have a hard time finding him. Follow him, and whatever you do, don't look back. Promise me, Sebastian?"

Instead, he took Katherine and climbed the stairs to the twenty-eighth floor. When they got there, Katherine heard her father's voice. Sebastian saw the scarred arms. Katherine noticed a body on the floor. Sebastian recognized the distinctive red hair, the same red on his head. And then Katherine screamed.

"Kids! Thank goodness you're here. Katherine, why are you here? Didn't I tell you not to go off exploring other people's apartments? Ah, you're Sebastian, aren't you? Remember me?" Katherine was too busy holding on to Pa's hands, while Sebastian froze beside his Mom's body. "It's time, Sebastian. Come with me." Then Sebastian turned, left his mother behind and never looked back.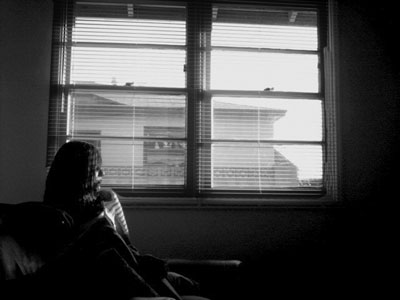 © Roxana R., Tustin, CA