The walls can speak.
April 30, 2012
I was fresh out of high school. I was just starting collage. I found an apartment, near but not on campus. Two floors to myself. Perfect. My next door neighbors weren't so delightful, but I figured, I would never really see them. It was a pretty old building so, when I heard the creeks and bumps it didn't concern me. After about a week, I decided to have a small party to see old friends and to break in my new home. I knew that the man next door would be pretty p***** if the music was to loud, and a bunch of collage kids were up all night jumping and banging around. Around 12:00 am the man next door, who turned out to a straggly, hairy man, obviously worn by age, beat on the door, rather heavily. When I opened the door, he welcomed himself right in, and began shutting everything off and send everyone home, he suddenly turned to me and with a strange edge to his voice "Do you want to get yourself killed, boy?" After everyone left, I staggered to my bedroom. I woke up, it was about 4:30 am. I heard a loud bang, down stairs, It moved, banging on the walls... It made its way all the way up stairs, up and down the hall... on it's fourth round up and down, it crept to my door. Like A four year old I hid myself under my blanket. I heard the door squeak open, then slam close. I heard the foot steps, the creaking floor all the way to the foot of my bed. in the split second the creaking stopped... I threw my blanket off... I saw it... what had been tormenting my for night after night... In that moment I let go of the blanket, it lunged. it grabbed me, dragging itself into my body, pulling my into the walls...

I still live in the house... But there is a new family... I don't like them... Maybe if I just bang on the walls a little....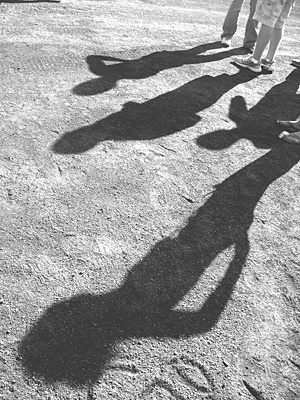 © Trella R., Mountain Lakes, NJ