Waiting
April 26, 2012
The door opens and in wafts the now familiar, pungent scent of alcohol wipes. Whether this a good sign or a bad one, I'm not sure. Does this smell mean his homecoming or just another day of extensive cleaning in hopeful anticipation of his return? My life has not always been spent waiting. The dingy blue leash that now gathers dust next to the door used to get a great deal of use, accompanying us on long walks through the woods or into town. We would spend hours fishing or swimming in the shallow lake behind the house. We could turn anything into an adventure, and we spent every moment together, but that was before. The smells before were of his shampoo when we snuggled in bed and of the mud on boots when we finished our sojourns into the fields. Then came the quiet whispers of the parents and the somber mood of the household.


"What will we do if Jack does not get better?"

"He has to get better; kids survive cancer all the time," Dad said.

Prior to this illness, Jack, my owner and best friend, was a tall gangly ten-year-old boy who shuffled when he walked. He loved being outdoors with me and would abhor the thought of spending his life inside watching his world through a window. His pockets always smelled of the biscuits that we would share while we ventured outside.

Now I spend all my time on his bed waiting for the day he is better and will return home. I hear the rest of the family say he is getting stronger every day, but he has been gone for so long. I had never heard of cancer before; however, from the number of people crying I must assume that it is a virulent disease.
Jack was never much of a complainer, but I still remember that day he came home crying from his doctor's appointment. Everything seemed wrong. He did not pause to greet me. There was so much commotion I could barely tell what was going on until his parents rushed him out the door and into the car. I watched the car pull out of the driveway, not realizing this could be the last time I ever saw him. No one cared to tell me what was happening; I had to find out on my own by listening to numerous phone calls with friends and family. Everything after that has been a blur of people entering and exiting the house, as if through a revolving door. Some come bearing gifts or food; others come just to let me out or talk to the family.
And I stand guard on Jack's bed, basking in the sunlight and waiting for him to come home to me.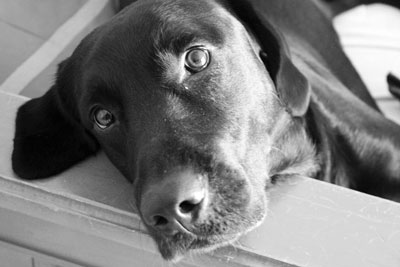 © Lindsay L., Snohomish, WA