Not Here
April 28, 2012
Happiness: The feeling of pleasure, as if the sun gently warmed the heart to cradle hope and keep her alive. Yet, my happiness falls from my hands and shatters on the floor.

Joy: an emotion that brings gentle and tender light to the eyes and brings a curve to the lips in an un-describable, but beauty way. Yet, my Joy hides beyond my sight, as I hold a liar's shame smile.

Bliss: The sensation that causes a strong yearning to hold the feeling tightly in the arms and never let go. Yet, my bliss takes off into the pale blue sky and away from my reaching hands.

Why, I ask. Why, I wonder, as I let invisible tears roll down my cheek. Why is it when I look into my heart, underneath the layers and deep within, why do I find a dark hollow space where happiness, where joy, where bliss, once filled to the brim? Why?—wh—….But, I do know why.
I do not want to be happy here. I cannot be happy here! That is why.
I am not happy HERE.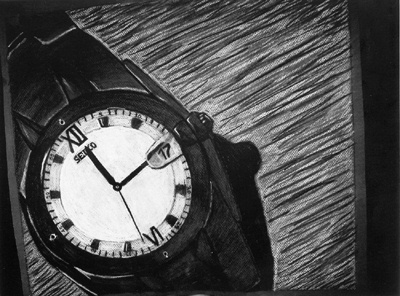 © Rachel U., Danbury, CT