My Playoff Story
April 28, 2012
This is it, my first Stanley Cup playoff series. One of four series needed to win the coveted silver chalice. First up are our cross-state rivals, the Philly Flyers. The first game goes by in a flash, as we win it 3-0. The next two games go by even quicker with two tough games that we are able to win. The fourth game goes into an overtime and Malkin scores for the victory; we sweep the series. In the press conference after the series, some reporters asked me questions. "How does it feel to have played in your first playoff series, and sweep them, especially since you are the first girl to have ever played in the playoffs?" Asked one reporter.
I thought hard for a minute to make sure I didn't come up with too many sarcastic comments, then replied honestly, "I don't think me being a girl really changed the feeling of the playoffs for me or anyone on my team. It was a tough, gritty series against a really good team, but in the end we were able to come out on top. I think as a whole we played a really solid series and that's all that matters. As for this being my first playoff appearance, it is definitely more exciting than the regular season, that's for sure. The fans cheer louder, each goal carries more weight and when I'm on the ice I have to remember to keep my emotions in check a lot more."
The next reporter hops in front of some people to get himself closer to ask a question, "How do you think the series went in terms of your personal play?"
"I think I played pretty well in this series" I replied, then carried on, " I did get one goal and one assist in game one and got 3 goals and 6 assists overall. In terms of point production I think I am pretty solid, as long as I can carry on the pace I am on. I could have done a better job defensively, we gave up a lot of loose pucks. Also special teams could always use some work. Overall I think I did fine, but it could always be better."
The next series we play in is against the Washington Capitals, who beat Florida in their first series 4 games to 2. In the series against Washington their defense is no match to our goal scoring abilities and we lead the series 2-0 with little resistance. We are able to win game three, but after the game I started having terrible nightmares about the series. In my first nightmare Ovechkin is rushing down the ice toward Fleury, and right before Ovi gets to the net Fleury turns into this giant, man eating, black flower. I wake up screaming, in a cold sweat and realize it was only a dream. Ovi did get a breakaway in the game the night before, but I got to him in time to save the puck and Fleury didn't turn into any man eating flower. We win the next game and are once again able to sweep the series. But I continue to have nightmares about the previous game. In my dream the Caps are mad because they were beat by a girl so they tie me to the goal post then take shot after shot at me. I scream in pain as the puck hits my face, the post, my hand, the net. I wake up screaming once again and realize it was once again a terrible dream. I'm glad this terrible playoff series is over and I might be able to actually get some rest.
The Boston Bruins are a very good team, and they are our next playoff opponent. The first game is tough, but we manage to win it in overtime. After the game I pick up some chatter in the locker room, "did you see that cheap shot, Chara gave me? I am so gonna get him back for that." or " hey nice pass, but next time try to get it to the tape of my stick." Occasionally I would hear some words spoken on how this is going to be a tough series because of Timmy Thomas. The next game is our first loss. That night my nightmares return. In my dream we are playing hockey, everything is good then the Bruins all turn into real bears. One goes after me and scratches me right across the face, another goes and eats Malkin. It is terror on the ice and I'm on the ground in pain. I wake up clutching the stitches on my face from where Bergeron high-sticked me. We are able to win the next two games. In game five the Bruins leave everything they have out on the ice, in the end it isn't enough to beat us. Once again we win the series. In the locker room after game five there is a lot of cheering. A lot of, "Yeah going to the finals baby!' or "Did you see the look on Chara's face, oh right you can't cause you're so short and he is so tall." We're going to the Stanley Cup finals and playing against the Detroit Red Wings.
One step closer to the Stanley Cup, just 7 games left at most. Going into this series I am the most excited I have ever been. In game one we get a quick lead. Then we are able to build on our lead; they manage to get a flukey shot past Fleury, but we still win the game. The second game is all about special teams and we lose the game. At the press conference after I answer one question only. "This game had a lot of special teams play in it, can you talk about your own performance on that and your teams performance?" asked the one reporter.
I had to think hard back on the game, try to pick out some positives and negatives before responding. I take a deep breath then respond, "I think in the start of the game we did a good job of controlling ourselves and getting those opportunities, but we didn't work as hard as we needed to to be able to get the result we wanted. Then in the second period I feel like the whole team, myself included, just felt the pressure and we took some bad penalties. We weren't able to kill them all off and I think that was really what killed us. I think after this game we have to know that if we give them opportunities they will convert on them."
In the next two games they have a new fire in their eyes, they know they have to win. With words and pucks flying everywhere, they are two intense games. We are able to win one in overtime and we lose one in overtime. The night after game four I have another one of my nightmares. It starts out as an outdoor game on a pond, its peaceful out, then out of nowhere these huge russian fighter jets start flying across the sky. The day goes black and all I can hear is the screams of innocent people. Then one of the jets picks me up and puts me into this empty rink. Its just me and a goalie. I have one chance to score. If I score they will let me go. I take the puck, do a triple deke, then I shoot it back hand and right as it is about to go in I wake up. I realize the dream is a very weird flashback of the night before. I went one on one with the goalie, in overtime, to score the goal. All of these messed up nightmares have been a sort of flashback now that I think about it. I try not to let all of these crazy nightmares affect me, in the next game I am not my normal self but we still manage to pull out a win. In game six we have a chance to knock them out for good, but I know that they will go down kicking and screaming. They play hard and pull a win from out of their hat. We are going to a game seven.
" OK guys I want to just say a little thank you" I start, not even close to finishing, "We've worked hard as a team to get to this moment, to give everything we have left, to win the Cup. I know that after this year this team might not look the same, but for right now we're a team and that's all that matters. You are an extraordinary group, you had the guts to take me on and accept me for me. I want to say that, win or lose here tonight, thank you for an extremely memorable season, I'll never forget this." I finish with small laugh at how stupid I sound. I guess I didn't sound stupid to the guys on the team though because many of them come to give me a pat on the back or a hug and give their own thanks on this season.

Game seven is every bit as intense as it was made out to be. It is a fast paced game. I think of the season, of my first game, of my first fight, of my first hockey injury. I start to actually pay attention to the game and score two goals; I take a look around the ice and really listen. The speed, the sound of puck hitting stick, of hard rubber hitting even harder post, the sound of the crowd, of the hard breathing of the players, of the whistle from the ref, of the doors on the benches being open and closed, the swish of ice meeting skates, that is the sound of fluidity, of hockey perfection. In the third period I bring the game to an end with a bang as I score my third goal of the night to get a hat trick. The crowd is electric, they go crazy as the buzzer sounds. We win the Stanley Cup. When it's finally my turn to lift the cup, I am ecstatic. I press the cup to my lips then lift it into the air. I understand why some players refuse to retire, why they kill their bodies just to get to this moment, why some players battle through crazy, flashback nightmares, yet keep getting up every morning and going to the rink. Because you can't beat the feeling of knowing that your number one, of knowing all that hard work finally paid off. Because it's the cup.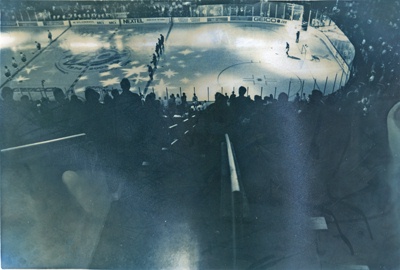 © Daniel K., Bethesda, MD