Somewhere Deep in the Woods
April 27, 2012
"Where did he go?" Mia thought to herself. She closed her eyes and pictured her warm, comfortable bed. Tears began to stream down her cheek. She knew she would not live. He would deprive her of her innocence and possibly her life if she didn't make the right move when she had a chance.
"Lay Down!" "Okay I am" Mia sobbed. The kidnapper had pale colored skin and a mask to cover his identity from her. Mia examined his body and the parts of his face she could see. There was one particular scar on his neck. As she began to contemplate the certain agony her family would feel, if something were to happen to her, she concocted a plan. A plan she knew would work if she played her cards right with the large, terrifying man.
The kidnapper laid his gun down on the tree stump and sat down in the half broken chair. Mia observed him to see if he would fall asleep or doze off. It had been three days since she had seen her Mother and Father. All that ran through her mind was her family and how she wouldn't get to have a family of her own someday. She was beyond exhausted and sleep deprived. It was time for her plan to go into action. She watched his eyes close little by little until she heard a light snore. She knew this might be her only chance before it is too late.

Mia slowly started to crawl past his chair, as quietly as she possibly could. Her heart was pounding out of her chest. She heard nothing but her heart beating. Suddenly she heard a slight crack on the ground like sticks breaking. It stopped her in her tracks and her heart began to pound even harder and her whole body began to tremble. She was almost positive he had woken up. She turned her eyes to the left to look at him, quickly noticing he wasn't there. Abruptly she got chills down her spin. Reaching to grab his gun, she felt the end was near.
Lying on the wet ground, Mia turned over and prayed a quick prayer to God, asking for forgiveness and she pleaded with him to save her life. She had always been a non religious person but she knew God was her last resort. As she gradually crawled in on the mushy earth she had flashbacks lingering around in her head. All of a sudden a burst of force came over her and she ran as quickly as possible. Now knowing exactly where she was and where her kidnapper was she had an ashamed feeling inside her stomach. Mia looked from right to left and front to back to make sure she was safe. She didn't hear any signs of human life around her so she hurriedly climbed the nearest tree and rested on a very sturdy tree branch.
Resting in the tree, Mia began to drift off to sleep but was frightened by a creepy noise rattling in the trees surrounding her. Mia gave an inspection to make sure she was safe even though she was in a fifty foot tree above the ground. Noticing her kidnapper was searching for her down below she covered her mouth to keep from breathing heavily. He looked around anxiously and soon walked away. Mia listened and observed carefully and heard his car crank up. Mia watched as his car drove off slowly down through the woods.
Carefully jumping down Mia followed the path his car had created. She made sure she watched around just in case he came back. She felt a great tension on her shoulders and was almost sure he had given up the search. Mia suddenly found herself at a two lane road. The fight was over, so she thought.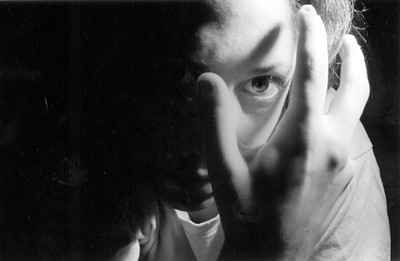 © Julie S., Marblehead, MA