Eve of Day
April 7, 2012
In the darkness I see but one figure, standing alone with broad shoulders. I can't make out what it is. I only know that he is there. A glow takes to the scene making it appear as a dream. I close my eyes for only a second, seeking focus on the scene before me. Where am I?

The figure has dark hair and looks to be nothing more than a young man. He does not turn and I do not approach.

I look up and see an orange light take flight into the air. It appears to have come from his hand, but still, he has not moved. I watch as it floats across the sky and seems to act in painting it this glorious color.

Another color—this one purple—escapes his hand; his back still facing me. It does the same as the other sphere of light had, leaving a trail of color in the sky. And again. A light of pink this time.

I look towards the figure expecting him to turn and acknowledge me. His hands are moving now, looking through his pockets. His finds something and blows it out of his hands. Little puffs of cloud arise from his hand and ascend to the sky. They absorb the colors left by the glowing spheres of light, making them appear in the most beautiful way.

A soft wind comes from behind me and I shiver involuntarily as my hair is blown in front of my face. I look down trying to cross my arms to keep warm and out of the corner of my eye I see him turn. Just as quick as everything happened his is gone. What is left in his absence is the soft glow of a sunset.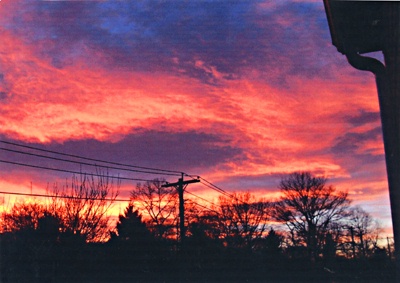 © Robbie M., Milford, CT