Sheidin Dujoné (That day, the two of them)…
March 25, 2012
I walk down a lonely, abandoned street of Kolkata at 12…allowing an upsurge of memories old and new, remembrances of snatched moments of love and tenderness swell right through my heart and burst like a perilous wave of sadness out into the misty air. It's an unexpectedly cold winter night and a street-lamp in the distance beckons me with its promise of heat and light. The same street-light that we both had walked by, many a day and night, laughing, cajoling the street-mongrels and sharing a hushed secret that only the two of us knew. The two of us... Rivu, the Tagore idealist and I, lover of all things Bengali.
Tomar khola haowa gora (the wind of your soul, oh fair one!)… "Renée, who's that guy strumming the guitar?", I asked my best pal, Renée. "Arunangshu Chatterjee", she replied curtly. I noticed the slight hint of sarcasm that laced her reply. But his playing had definitely got me hooked onto Rabindrasangeet**, which I as a Bengali, unapologetically, had once renounced during my childhood. Though that incident has got nothing to do with today's story…The wind's blowing hard and fast, perhaps coercing me to get on with my tale, which the farishtas of the night and the 'hungry stones' have gathered to listen to. The 'Hungry stones (Khudito Paashaan)' that Tagore had so believed in...

Rivu and I had always been inseparable from the time we first became buddies. We shared our secrets in complete isolation, as he played on with his guitar, occasionally combining Emerson Nogueira with Tagore's 'Birosho Din'. We would laugh and cry out in happiness as we watched Rivu's once-paralyzed sister, Shriya, trying to walk unhindered, grappling at the white-washed walls of Rivu's one-room flat, the posters of Tagore the only adornment and 'Paagla Haowa(the mad wind)' the sole music that played day and night. We mourned together when Shriya passed away, leaving behind the two of us to strive within the boundaries of our friendship, but, yes ,forget Tagore ,Rivu never did. The rare holidays on Saturdays, I remember, would be sprinkled with an exciting, thrilling visit to Jorasanko, where I would go crazy clicking photographs of the corridors that Tagore had once haunted, on my Canon DSLR, with Rivu, the sporadic poet, always humming a note of some melodious Rabindrasangeet or the other.

"Where the mind is without fear…",the exact words of Tagore that Rivu had quoted in Bengali, as he lay on the hospital bed, his once handsome face now wasted, and his heart trying in vain to bridge the gap between life and death. Dr. Palash had warned me, "Shonamoni, your best friend has only a few hours of his life left…so allow him to enjoy his short life to its full measure…", and I had simply nodded and turned, not letting him see my blood-red eyes, brimming with a cascade of tears again and again. I blinked away the crushing sadness, like I've always done in my life, but ever failing to be happy, as I pasted a smile on my face to greet the now battling Rivu. That was when he uttered those words. And to be fair, those words had broken my heart into pieces. Some hours later, I was bravely calling up his friends and relatives to inform them that Rivu was no more, all the time knowing that those evenings of hushed, dulcet tones of Rabindrasangeet were over.

"Shedin Dujone…", somewhere deep in my heart , I hear the familiar voice again. The street-lamp has slowly started flickering and growing dim. To my uttermost amazement, I see Rivu walk towards me from a distance, and clutching the box of cyanide pills I run towards my only best friend, looking resplendent in a white katha-stitch kurta.I am his benign Charulata*, Damini* and Bimala* again.

*Charulata, Damini and Bimala are all characters from some of Tagore's most famous novels, namely: Noshto Neer, Chaturanga and Ghare-Baire respectively.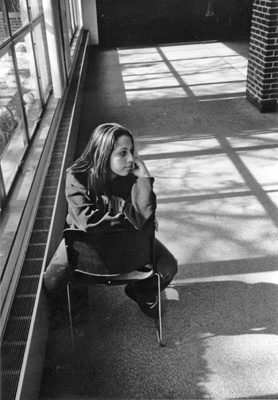 © Leighann E., Westport, MA