Art Exhibit
March 15, 2012
The storm roared all day like an awoken monster, desperately trying to mute the painful city lights. I pitied the bruised sky, because no amount of rain could ever cleanse this city's filth to a point where the Earth could finally breathe.
The museum today was quiet. People were concerned with curling up by their windows to watch the rain fall, perhaps with a mug of tea and a warm laptop. Myself, I don't mind it when the museum is quiet. When the last visitors left, it was like the main lobby had taken a deep breath of contentment. It had, at least temporarily, been relieved of these people, like ants crawling all over the skin.
I flicked a switch, sealing all the main entrances. Silence.
Solitude.
My black shoes tapped loudly in the long dark hallway.

Rows of flat canvases watched me with distaste from opposite sides of the wall. For a common visitor, the paintings hang dignified, proud. For the curators, they hang loose and sideways, demanding attention. For security guards, they look on with respect and obligatory gratitude. It is a guards job, after all, protect even their very existence.

I felt their disgusted gasps as I continued along my way, unwelcome. Luckily, they are cursed with silence. They bring on silent awe, silent thoughts, and silent reflection upon the viewer and upon themselves. But they cannot scream, cannot cry for help. Finally, I approached a fork in the hallway. In the center of this fork was a white wall, adorned with the proudest member of the museum. She smiled sadly at me, as she had to millions of others before her. What will you do to me now? Says her expression. I stole her.
I stole her with my eyes, with my forbidden presence. My arms hung limp in my pockets. As I walked away in defeat, she scoffed at me in silence.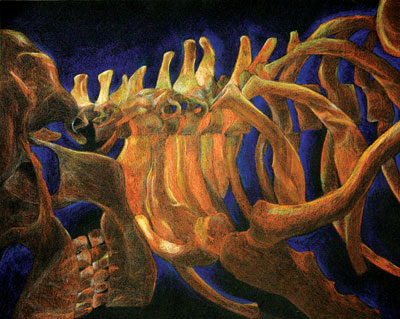 © Amy Z., Edmond, OK