Nothing is Ever Free
March 19, 2012
Nothing is Ever Free
Today, and today only, this will be my thinking room. I'm still breath-taken by and, over the years, I've grown connected to it. Its porcelain white-tiled walls; its reserves of tucked-away but still noticeable soap; the gentle sound of water slowly making its entrance – all of it with a price tag. It's ideal for an average American customer, and somehow, it's perfect despite that. It's so damn perfect I want to become its resident. But somehow, society doesn't want me to reside in a bathroom. They want me to be normal.
And at the same time, they want me to be exceptional. The second hardest thing I learned growing up is that everything, absolutely everything, requires your full attention. But because I put so much effort into appearing normal, I'm always brain-dead on the job. They say if you sleep on the job you get fired, but I doze off all the time and I'm still here. I think I'm still alive – but just barely, though. My dad complained about this job all the time, and for the longest time, I purposefully ignored him. Now he's dead – it had been for the longest time, and it reminds me of the hardest thing I learned growing up – people die, and if you're close to them, you should have helped them survive.
If only I had someone really close to me in my life. My fiancée is slowly but surely drifting into the arms of someone else. She's begun to ignore me, and it's all because I paid just a little bit more forced attention to my job. But I already knew that everything had a price. That was already why I'd become a salesman in the first place – not because I wanted to follow in dad's footsteps, but because if everything had a price tag on it, I should have been the man to sell it all.
And now, maybe by accident, I've sold myself – the only place I can ever be free is right here. The bathtub begins to fill up with water, but I'm not frightened of it anymore. I'd always been terrified of water, and therefore baths, swimming pools and the like. Now society has made me too numb to fear, and I don't know if I should thank society for it or not. It's given me the strength to realise I want to be right here, and with any luck, I'll never leave. Once I open that porcelain door (with a price tag), I'm once again offering myself as something that can be bought. Once again, I'll have a price tag around my neck strangling me and I'll be reminded that nothing, absolutely nothing, is ever free.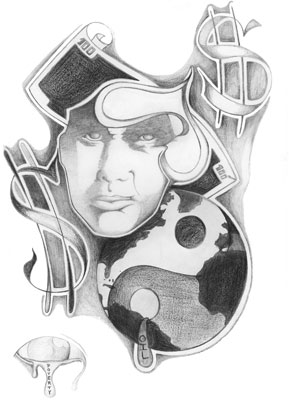 © Kevin M., Miami, FL