My Life as a Teddy Bear
March 10, 2012
The name's McBear-Bear… Beary McBear-Bear. I'm the CEO of Terrible Teddies Inc., but you probably already knew that. A little birdie told me you've been wondering what life as a teddy bear is like. I'm here to give you a little taste of just that. Before I begin my story, you must understand that I'm not your average bear.
Let's start from the beginning. I was made in a small factory just outside of Kutztown. I believe the company was called Webkinz or something of that nature. I had a rough start in life. I fell out of the box that was supposed to take me to a little girl named Judy Camm and I was living on the streets of Baltimore for quite a long time. I made a living by robbing the toy cash registers around town. I was the type of bear nobody messed with. So notorious was I that they had posters all over the toy stores offering rewards for any details of my whereabouts. Naturally, I was far too sneaky for any of those fools to catch me. When you lived on the streets for as long as I had you tended to pick up a few tricks in the stealth department, if you know what I mean.
Running from the law became a bore to me so I soon gave up my life of crime for a simpler way of life. To be honest, I had no idea what I was getting myself into. Being the bravest of all Teddy Bears, I naturally sought out adventure in unlikely places. I packed my bags, left Baltimore, and headed for one of the most sinister places known to bear kind… Preschool. A name that makes even the most terrible of Teddies cower in fear. But like I said, I'm not like most bears.
When you fickle humans think of preschool you probably think of adorable little kids, wearing shoes that light up, running around and giggling merrily. You people make me sick. Preschool is not the ball of fun you suppose it is. You're probably sitting there thinking, what kind of a heartless monster is this guy? He has to be kidding, preschool can't be that bad. If that's you, then may I call you Captain Clueless? Preschool is the deep, dark abyss that you fall into in your worst nightmares.
To start with, there's the other inhabitants of my preschool, the toys. I despise those other toys. Except for Sandy of course, but that's another story. All the other toys seem to talk about is politics. Come on! Economy this, government that, it's all they care about! Nobody wants to sit there and listen to you drone on and about Barack Obama all night. Props to the guy for being the president and all, but he really isn't that interesting.
Then, there's the Barbies that I have to deal with. Don't even get me started on those darn Barbies. "Oh. 'Em. Gee. She did not!"
"Oh but she did!"
"For real girl?"
"Yeah, I know!" Throw in a few screeches and giggling and you've got the entire vocabulary of a Barbie at your fingertips. What annoys me even more than their constant gossip, is the way they stare at me. They're always staring at me, always. Just because I'm not the skinniest bear around doesn't mean you should stare. I have feelings to you know!
Wait, that's not all. You though preschool couldn't get any worse? Well guess again, because it does. If your favorite sound is screaming then you should apply for a job at preschool, because that's about the only noise you'll ever hear. Not only do those putrid children scream at the teacher, and each other, but they also feel the need to scream at me. Yup, that's right, at me, an innocent Teddy Bear, and it's not like I've ever done anything to them, either. My best guess is that they enjoy the sound of my eardrums shattering.
Keep reading, it gets better! The thing that I hate most about preschool though, is not the screaming, but the kids themselves. Apart from their constant screeching, they drool, burp, fart, grab, squeeze, tear, and yank, along with just about every other annoying action you could possibly think of. I'm missing half an ear because of the little brats for crying out loud! They take those pudgy little fingers and wipe their bodily fluids on me. Can you say disgusting? The teacher doesn't even do anything! He sits there on his lazy butt and watches them dress me in pink and purple sweaters. It's humiliating! Life as a Teddy Bear is not a walk in the park, take it from me.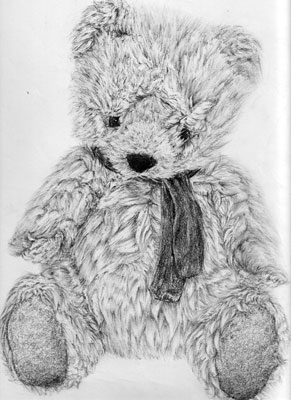 © Sarah F., Birmingham, United Kingdom