When the Party Ends
February 26, 2012
A breath escapes her pale blue lips as I watch her eyelids close over her hollow, lost sapphire eyes. My heart aches terribly as I realize that she may never open them again, but she would no longer be forced to watch my blood splatter the cold tile. I want to touch her, her matted blond hair that once tumbled effortlessly down her back, her blistered, ripped skin that was once so soft and glowing.


I watch her, the girl I used to want to be, dying on both of our last resting places in the blood and the mess.


A shiver rocks my limp body as cool air runs across the sheet of sweat covering my skin. Bitter-sweet blood drips steadily into my mouth and down my raw throat. The brick wall digs into the spot where the flesh has been scraped off the back of my throbbing head. I want to lose my sight like her; I want to finally escape into my head so I cannot give him what he wants when he comes back. Back down those wooden stairs, I can hear his foreboding steel-toed boots stomping loudly. It is in my head, I know this, but I still wince painfully at the very poisonous thought.


Alice. I whisper in my head. How beautiful is it up there? Are you pretty again? Maybe he'll finish this time. I smile, at least, in the mirror in my mind I do. My lips are already ripped into a permanent grin. I will always be happy. Oh, so pretty, Alice. The mirror in my mind reflects a lovely girl. Her green eyes round, smirking. A smile stretched bloodily from ear-to-ear. He told me I was lovely when I smiled.


The cold knife made sure I was always lovely.


Stomping down the horrid stairs, he slips a little on the blood. You are so lovely, too, sir. My mouth falls open in what must be a terrifying grimace as my hand curls around the silver and starts to bleed. But I'm the loveliest monster out there, you know.


"Are you ready to dance again?" He whispers as his hand slides to the back of my neck. Aren't I always ready to dance? I am already grinning as I run my hand across his throat, leaving the gorgeous, dripping line of a second scarlet grin in my wake.


When the party ends, we all curl up on the red carpet, and we rest.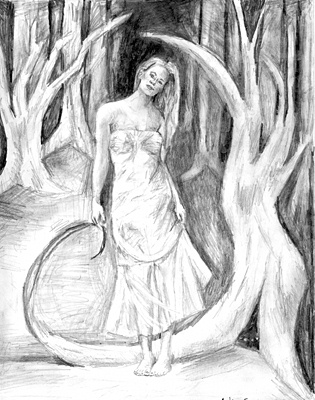 © Andrea F. Philadelphia, PA,