Watching the Snow Fall
MAG
I was born exactly 12 minutes and 26 seconds before my sister, the first of us to open my mouth and cough in the oxygen of Pennsylvania Hospital, but it was she who, 13 years later, would wake up and run down the stairs to my mother screaming that she was hemorrhaging to death. My mother would embrace her with wide arms and teary eyes as she pronounced her a woman. My mother would bake a cake, the traditional Jewish apple, and excitedly telephone my grandmother to tell her the good news. My first period would come 14 months later. There would also be a cake, but this one would be bought from the local ShopRite, and my grandmother's Long Island drawl expressing her pride would not sound as enthusiastic as it had for Emily.

Growing up, it did not take me long to realize that Emily was destined to reach all facets of womanhood before me. When we hit sixth grade, her seemingly perfect breasts began to appear; mine did not become pronounced until high school, and even then they were lopsided and disproportionate to my frame. Emily, having been blessed with our mother's peachy complexion, had nearly flawless skin that required no make-up and tanned to the hue of light toast. My own skin blossomed with pink-spitting blemishes throughout adolescence and into my early 20s, and the only thing my skin did in the summer was burn. Four years after Emily had awakened to discover her first menstrual cycle, I would forget to knock on the door of the bedroom that we shared and find her with her boyfriend. I would immediately shut the door and begin to cry. Half of me would want to feel disgusted ("In my room!"), but the other half would be overcome by fervent jealousy.

That boy, like the others who came before him and those who came after, would not be there when Emily fell ill. It happened the year we turned 20; Emily was studying journalism at Barnard College, spending her weekends wearing swanky black dresses that slipped from her shoulder blades as she shimmied from one acquaintance to the next, making hand gestures that enhanced her conversation and smiling behind a veil of MAC lipstick in Rouge Noir. Meanwhile, my major remained undecided at the University of Delaware. I spent my weekends in the stifling hot dorm rooms of people I'd never met before wearing oversized sweatshirts that would remain static on my collarbone, a testament to my own self-consciousness.

I would be at such a party when the news arrived, via cell phone from my mother. I could tell from the "Hello?" that the conversation would be about Emily; her voice had already taken on that peculiar enthusiasm it did whenever she talked about my sister, only this time the enthusiasm was muffled beneath a coagulation of sobs that she would cough out between her words:

"Emily is sick."

My mother would go on to explain how everything had begun with a fever and then a stay at the Columbia University Medical Center, but the precise details of our conversation would blur with the bass pulsating from the cushion up to my temples, the hush of laughter from a nearby room. They would blur with the months that succeeded that party, with the visits from distant relatives and the awkward encouragements from overpriced doctors who sang of unparalleled treatments. They would blur with the train rides into Manhattan spent cupping my mother's hair behind her ear and whispering that everything would be all right, all right, all right.

Finally the time would come when the doctors would stop sounding so enthused, when great-uncles and second cousins would stop sending cards, and when my father would stop promising a vacation to California once the medical bills decreased. Finally, my mother would stop pretending that this was akin to the afternoon when we were seven and Emily had decided to become a supermodel by smearing her cheeks with lipstick and painting her eyelids with mascara. Finally, this was no longer just another phase, just another display of Emily's eccentricity that could likewise be fixed with industrial-strength cosmetic remover and no dessert for a week. Finally the details would make themselves clear: The cancer had spread mercilessly, had attacked the white blood cells first and then choked the rest of her, leaving her to die beneath the ivory sheets of a bed at Mt. Sinai Hospital.

When I saw her there, the first thing I noticed was that her normal luminescence had been muted by the hospital's harsh fluorescent lights, her peachy complexion now a sickly gray from too much medication and not enough food. Her hair, her honey-brown hair, no longer fell in a river of loose waves that would always make me conscious of my own stringy mane; it had all fallen out with the chemotherapy, fallen out with the rest of our hope.

I read her The Giving Tree, our favorite book growing up, and shared gossip about cousins, aunts, and uncles; who was divorcing whom, who was engaged, pregnant or thinking about getting pregnant, but we both knew that the conversation was no more than a distraction from what seemed to scream out of every crevice in the hospital room - I would be the one to win. After all the high school dances where Emily arrived with her arm wrapped around the bicep of some varsity football player or National Merit Scholar while I would go dateless and miserable, after all the academic awards that Emily had accepted with a toothy grin while I sat half-heartedly applauding in the audience, I would be the one to come out on top.

Sitting beside her on the hospital bed, grazing fingers and wiping wet eyelashes, it was then that I realized that perhaps my sister's catapult into womanhood was not intended to spite me or to appease my mother or simply because she had the capability to do so. Perhaps Emily's rush to maturity was out of necessity, because somewhere inside she knew, in the same quiet way that you know on certain winter mornings that the sky is bloated with snowfall, that she would have to act fast before her opportunities were gone.

And on that day when Emily's blood cells would finally stop fighting and the nurse would tell me that Emily was one of the most beautiful individuals he had ever met, and on that day when my mother would call my grandmother, now on a deathbed of her own, before collapsing onto the cold, cold floor of Mt. Sinai Hospital, and on that day when the sky should have halted, instead it would be snowing. And on that day I would shut my eyes and reflect on how those 12 minutes and 26 seconds were the ones she had needed the most.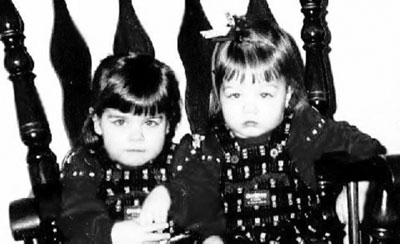 © Chris P., Cleveland, OH