Pen & Paper
February 28, 2012
They'd think me a fool but I fail to see the reason. When to me, it means much more than they could ever imagine. I stare at the blank page, the forbidding bleached sheet. To them—to them it is just a piece of paper. Though to me, it is the release for my soul.
The ink of my pen touches the smooth, welcoming texture of the page as the tip creates words. They wouldn't understand the relief it brings when I see the open space. I was once told that this space was one to be conquered; a feared openness that most cannot conceive. They fear the emptiness it shows as it is the loneliness in their souls.
No one can imagine the joy I feel as I open the notebook and smell the fresh untouched sheets, dreaming of what I am to write. Though I almost do not want to put pen to paper, in fear I may ruin the natural beauty of what is. It is the age-old conflict between a man and himself: to destroy or replenish the beauty of the undisturbed?
Yet it is all in my head, my own internal dispute and all about a piece of paper. That is why it means so much to me. The ordinary is no longer ordinary. Not to me. And the war inside my head, it must end, for I must fill the paper with the words I am dreaming.
The moment I have waited for comes. I take my pen and touch it to the paper I have left undisturbed. Maybe, maybe it is not the paper itself that is extraordinary but the words that give it life. Together, in perfect harmony make what so few recognize as a masterpiece. It is to my knowledge that people do not take the literal arts as such a thing. A paper is a paper, a pen is a pen; maybe so. Though not when put together.
As I begin the story, I begin to see what I find so extraordinary coming to life. There is no stopping me now. I scribble my words into meaningful sentences as my thoughts race to finish the job. In the midst of my mad dash I realize something. Only the person who believes that it is extraordinary can make it so. This is why they do not share the view that I have.
A sight for one is not the same for another. Though through my writing I believe I can convey what I see. As the paper I possess is an item that is so much more to me. I can only say what I feel but cannot truly express it. You will only understand if you look but not feel.
And so I continue to improve the ordinary with my thoughts and praise. I hope that someone will share my love for the paper and pen. They are two simple objects that have created some of the best, well-known writers and poets of our time.
The end is near, for my paper is nearly full. The ordinary items have been transformed from pen and paper to a masterpiece; my extraordinary world. I place my pen down beside the destined paper filled with success. I have finished what they thought me foolish to do.
It does not matter if you believe me or not but my word remains true. To them—to them it is just a piece of paper. Though to me, it is the release for my soul. It repels me yet attracts in my fight between the beauty of the untouched and the extraordinary. In the end, it was well worth it. I have now transformed what I believe is extraordinary to a view of which all the world can share.
It is just a pen and a paper until you put them together.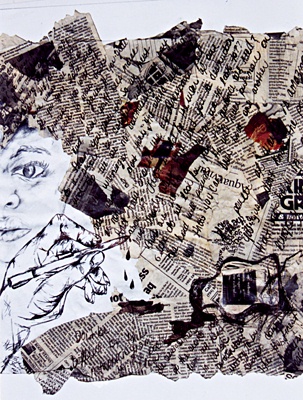 © Lashieta F., Kannapolis, NC