Nothing Worth Living
February 29, 2012
"My name is Ulrich Wolfgang Arnheim. I was born on November 2, 1927 in Berlin, Germany. I am the only child of Dr. Fritz Arnheim and Milli Arnheim. My father is a successful lawyer and my mother does not work." I continued to read my report until I met her eyes, and by her I mean Stefani Rona. I have had a crush on her since the 3rd grade, which is about 3 or 4 years. It's 1938.

Stefanie is Jewish, like me, and she has beautiful dark brown hair and eyes. I wanted to ask her to go steady with me, but that would be weird.

I walked down the hallway with my best friend, Victor Wolff.

"I'm just saying, the world could end tomorrow and you would never know if she would say yes or not." He said as if I was going to change my mind.

"I'm not asking her drop it dude." I said, but I knew he wasn't going to drop it.

I walked in the front door of the house and noticed my mother sitting on the sofa crying. I thought she might have stubbed her toe on the vanity, but it was something much more serious than that.

"Ulrich, honey," there was a long pause, "we're being deported to Poland!" My heart stopped. A silent tear fell from my eye.
"Does father know?" I asked her. My father came around the corner and said, "Yes I do."
I looked at them both, I ran toward them and we all began to sob.



3 years later

"Erhalten Sie auf den Grundsweinen!" Yelled out one the Nazis. He told one of the older men to get on the ground and that he was a swine. I was shaking. I was terrified about what was going to happen. The old man slowly made his way to the ground, but the Nazi was finished. He pulled out a gun and shot the old man. I looked away, afraid.

"Tut jederman wünschen einiges!" Yelled out the Nazi. What ever he had I didn't want anything.

I continued on with my work until the end of the day. It's 1942, my mother was sent to the gas chamber as soon as we entered the gates of Auschwitz, death camp. My father fought for his life until he was gunned down. I, Ulrich Wolfgang Arnheim, am the only male Arnheim still alive.

We all had chores. Mine was to do laundry, which I despised. I was trying my best to finish before curfew, but I failed. I turned around ready to leave, but I felt a piercing sting in my chest. I stopped dead in my tracks.
I looked down and saw blood slowly dripping from my body. I dropped down to my knees and looked up. A tear fell from my eye. I saw everyone I had lost: Mother, Father, Victor, even Stefanie.
That's when I saw the light.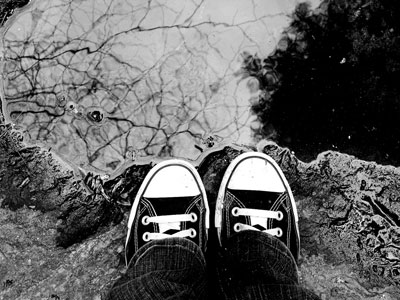 © Michelle B., Blairsville, GA