A Night's Hauntings
February 13, 2012
Something in the air felt different, she couldn't explain how, it was just different. She walks on the drenched pavement towards the great unknown. She felt the horrors of her past breathing down the nape of her neck with every step.

A voice from her past begins to haunt her sleep and bury itself in her worst memories. The twisted, raspy, voice beckons those memories to resurface however she is strong and fights back with all she has. Only sometimes all that she has is not enough.

Her nightmares, so realistic, so appalling, remind her of those things she wished she could forget. She lies there in a deep sleep, her body not letting her wake from the revulsion that is behind her eyelids.

Dogs loom on the horizon, there red eyes meet hers but she stands her ground, the only thing that moves are her fingers as they clench and unclench into fists. The mutant dogs surround her, circling her as their master, a true demon from Hell, approaches. He moves with slow deliberate movements, gloating on how he can control her. With every step his yellow brown teeth become more apparent as he sneers with ecstasy. His crimson colored eyes are filled with hate sending shivers of panic up her spine. She refuses to let it reach her eyes.

His hideous face, painted black, is streaked with sweat, his deep eyes and devilish smirk take away her breath. "Must we really do this," she asks in a honey sweet voice.

"Since you do not cooperate," he hisses, his forked tongue pronouncing each syllable as he circles her, "it is necessary." The mutant mutts from the deepest pit of Hell nip at her heels, pushing her closer to the grasp of satanic doom. He bellows a laugh of hate, fire and bloody vengeance as she buries her fear deeper and deeper within her heart so he cannot sense the weakness. "What do you want," she asks steadily, "What could be so important that you have puppies do your dirty work?"

"I don't get my hands dirty, Love," he mutters repulsively, "You promised me your soul long ago and now it shall complete my near perfect collection." The demon twists his boney fingers into a sharp fist, laced with spikes and blades of all sizes. The Leviathan canines go mad, taking their master's cue. They clamp their muscular jaws around her ankles, snapping them in two. They foam from the mouth, waiting for another chance to play with this frail girl before them.
Crippled, paralyzed with pain and trepidation she watches as the infernal monster brings up a razor sharp axe he held in his coat. He brought it up then swung it down with all his retribution, burrowing it deep into her soon to be lifeless body, splintering her chest into a hundred tiny pieces. A silent cry escapes her lips and a dry tear falls from the corner of her once emerald green eye.
She is never to wake again but where will you find her? Only the darkest demons of her past shall know.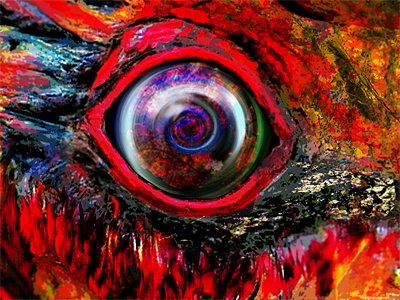 © Tom M., Philadelphia, PA