Cold Black Coffee
January 8, 2012
I'm glad that you're alone.

Standing there, outside Dunkin Donuts as it grows increasingly more frigid.

You deserve to have hypothetical icicles hanging from your nose, rather than a warm cup of coffee nestled in your hands; a warm smile seated across from you.

You rub your palms together, wishing you'd brought gloves. But we both know you're not good at remembering important items. After all, you seem to have forgotten the one person that accepted you. Before anyone else had cared, I was there for you.

You realize now that I won't show up. You go inside and take out your wallet. There is no one else in the shop; it's you and the cashier. You buy a coffee, black, and sit down. You take a sip, it's cold.

If at this time I walked through the doors, giving into my softer side and feeling guilty, you'd turn on the charm.

You'd try to make me forgive you.

It won't happen.

You need to be alone, to realize how it feels.

You take another sip of your cold coffee, the bitterness stings; you scrunch up your face.

Loneliness stings.

Being forgotten and used stings.

You imagine the scenario as a director and go back to scene one.

You wait outside. I come and say, "Sorry I'm late."

You say, "It's fine." We go inside and drink our coffees, together.

But all the while you're smiling at me, you're thinking how nice it'd be to have her sit across from you.

That's what you really want.

But she doesn't even drink coffee, moron. And if you cared that much you'd know. You'd edit the script and she'd have hot chocolate instead.

There, that feels better now.

You sit and sip your coffee, she smiles back at you with whipped cream on her nose.

Your mind wanders, relaxes, but then the door to Dunkin Donuts swings open and a new customer walks in. The icy cold air floods in and slaps you on the back. You look around startled, you've upset your coffee cup and it's spilled its contents onto the floor. Karma, my friend, has taken the seat across from you. She's come to share the moment. Come to play footise under the table.

She's come to share a cold cup of black coffee with you, in my honor.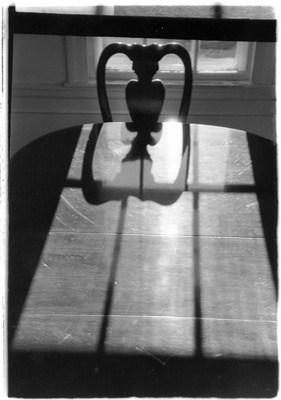 © Ben Q., Marblehead, MA