The Last Unexploded Bombshell
MAG
I.

He sat behind the wheel of a rusty Chevy, calmly picking the stuffing out of the seat between his legs. Led Zeppelin floated out of the speakers and through the cigarette smoke, adding a dream-like quality to the already surreal evening. We'd left the party two hours ago, once the heavy stuff started. I was still a little buzzed, but not enough to be hung over the next day.

"I gotta get out."

"What?" Even through my semi-addled mind, I was able to sense a growing problem.

He shut off the lights and leaned back, seeming to fill the entire landscape that the window gave us. My cigarette had burned to the filter so I stuffed it inside an empty can. We were probably going to be here for the rest of the night, staring at this hayfield and waiting to sober up. Let the wind and stars clean us out until we could focus without this deep (darkness) fuzz blocking our rational thoughts.

Had Dave finally realized that this wasn't the only way? That he could still have my love and respect without the constant worry that someone didn't care about him?

So I still didn't know.

II.

I guess mornings always come on strong, the sun waiting until you throw open a window to blast at you. "Full power, Captain Kirk. Thank you, Scottie."

Dave had dropped me off at five in the morning. Sober, at my house, alone. Not that I could blame him. His father (a functional alcoholic himself) would've given him eight shades of holy hell had he known that his son had even looked sideways at the hooch.

An alarm clock jerked me away from my thoughts and I realized I hadn't gotten any sleep that night. Oh, well, add that to the list of sleepless nights I'd already had. School was going to be hell, but I already knew that. Sometimes I feel like a test subject, a rabbit they try hairspray on, a monkey that gets shot out into space. It's all against my will, but it will improve society somewhere in the future.

That is what's important, right?

Mark dropped me off a half-mile from school.

"This is it, Jack," he said, putting his phone away. His sister was sick, and he didn't have enough gas to make trips back and forth. "Get out, buddy."

"Fine." I said, got out, grinned and flipped him the bird. "Sit on it and twist."

He laughed. "Pick you up at 2:45."

So I walked.

III.

She stood halfway in the front door, a halo of red-gold hair floating, spinning in the air from the force of her turn. It took me 12 seconds to realize I was in love. Is that too corny? Would it be better if I didn't describe the tilt of her head, the part of her lips, the feeling like that red-gold wells up in your chest and for a second you don't care that they test hairspray on your rabbit eyes. It doesn't matter that your little monkey self is going to be floating around the sun for the next hundred million years. Society can wait - because you're in love.

I found out her name in third period. Mary. That didn't even come close to telling my heart to stop its frantic race to let the world know through my ribs and my shirt, that I'd fallen head-over-heels-over-a**-over-teakettle for this amazing example of a girl. Mary wasn't going to do that justice.

In my head, I started calling her the Last Unexploded Bombshell. Her looks would've had Marilyn Monroe and Marlene Dietrich seething with jealousy. Had she been alive in 1943, the world would have been under her spell. My problem in 2007 was that she had the whole school already.

I talked to Dave at lunch. We got in the Chevy, and as a thousand unremembered conversations and discussions assaulted me with nostalgia, I told Dave about the Unexploded Bombshell.

"Well." He picked another piece of the seat out. "I'll tell you why that's a good thing and a bad thing."

Another epic discussion with Dave about all of the (women) reasons why Mary was the best and worst for me.At the end, I only wished that this wouldn't haunt me with the others every time I got in the truck.

"Those are my reasons," Dave said. "Now, what are yours?"

So I told him.

IV.

First words out of Mary's mouth: "You're Jack, right?"

Another Friday night, another mindless party with Dave and the usual rotating crowd of teenagers. But Mary was here, in front of me. Asking who I was/am/will become. What was I going to say to the Bombshell who had just landed in my lap?

"Yeah," I managed to squeeze out before I was again conflicted with the images of Mary in my head, and the breathing, blood-pumping oxygen and (hormone) carbon-dioxide-producing person sitting on the couch next to me.

"I'm Mary."

"I know."

My head decided to leave my body alone for a while and concentrate on the wall opposite us. Please, God, don't let her think I'm a creep. I didn't have to try any lines or moves: a brawl had started in front of the sunken couch.

Mary screamed and grabbed my hand. The only problem was my choosing that moment to get hit in the face. Didn't hurt much, but there was an awful lot of blood coming out of my nose. My horribly-timed savior Dave wrestled his way through the crowd to haul Mary and me out of the war zone.

The way back to the truck is blurry; all I can remember is Dave swearing and Mary holding my head back. Didn't know what else to do.

So I fell asleep.

V.

"That's it! No more, dammit!"

Dave. Must be Dave.

"I'm getting out, right, Jack?"

I grunted an affirmative and sat up slowly. "But where?"

"No idea. You got - what - 200 on you? I got 500 dollars. That's got to get us somewhere."

Mary was leaning on me, bright with adventure. "How about Mexico? It's always sunny in Mexico."

"Okay." Dave did a 180 and headed south.

Red-gold in my face. Can you smell strawberry blond? I think so. I think it will always remind me of Mary. The Last Unexploded Bombshell.

She woke up and looked at me. "Are we there?"

"Yeah."

"So, now what do we do?"

So I kissed her.

It's always sunny in Mexico.

So I kissed her.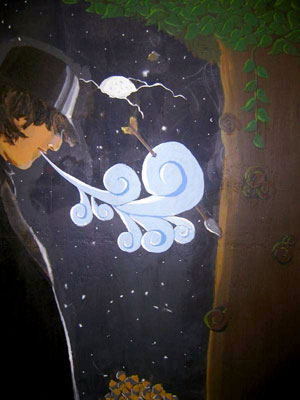 © Dean W., Hinesville, GA