Skyriders
January 6, 2012
I sit on the top of a hill, gazing out at the setting sun. It slowly dips into the dark horizon as the moon, barely visible, begins its ascent into the heavens. The sky is spread out in front of me, a watercolor painting embellished with breathtaking oranges, reds, and yellows of every hue. Below me is a lake, mirroring the awe-inspiring sight before me. I feel the cool, soft grass tickle my legs as I inhale a deep, drawn-out breath. The air smells of fresh foliage, light and weightless, yet substantive. The evening around me is warm, with a refreshing cool breeze every once in a while.

In the now darkening horizon, two lone skyriders emerge in their balloon-like airship. It slowly drifts my way, swaying with the wind, like the cradle in the nursery rhyme, "Rock-A-Bye Baby." I quietly hum the tune to myself, watching the skyriders slowly approach the underlying lake. The sky is dark now, and the fire that keeps the airship aloft can be seen dancing as the airship begins to descend over the pool of water. The woman touches the water, which ripples in response. Her laugh rings throughout the hills.

I look to my left, and can see the village in which I live. The windows glow with light, and a bell tolls seven times. I can see a couple of mothers gather up a few straggling children playing make believe. Music wafts from the tavern to my keen ears. The violin evokes a primeval feeling inside of me; a feeling I had not known existed. It brings me back to my grandfather's stories of majestic castles and brave knights, of moss-covered stones and rites of old.

I get up, watching the now far-off skyriders fade into the distance. The air is cooler now, and I wrap my woolen jacket tighter around my cold torso. I walk down a dirt path, trees watching over me. A squirrel scampers past, heading to an obscure knothole somewhere in the woods. The aroma of 14 different families having dinner wafts into my nostrils as I walk further down the path. It turns, and I follow. Everything is how it should be.

I now enter my village. I walk past the church of my community, roof adorned by a wooden cross. The distant lullaby of crickets soothes me as I walk into my house. I am greeted by my mother, who scolds me for being late coming home. I apologize, gazing over her shoulder at the generously set table. There is a steaming pork roast in the middle, complemented by browned potatoes and golden cobs of corn. I sit down to eat with my family, and, gazing out the window, see two lone skyriders, swaying with the wind.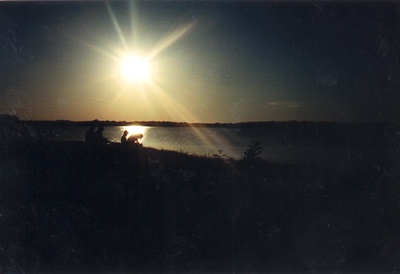 © Angela F., Bonham, TX