Monster
December 4, 2011
"Run! Run Anna-Lee!"
I couldn't catch my breath. That devil is behind us and Anna-Lee will not fight.

"Anna-Lee he's behind us, hurry run!"

My heart beats rapidly. I am struggling to get oxygen from the iridescent clogged air. Every breath is short and stabs my throat. My body numb from running through the vast wilderness, if my mind did not keep pressuring myself to survive, my body would've never been able to keep going, for my feet were covered in blood from cuts he slashed with his knife, and it being bombarded by dirt and grin into open flesh, made the pain even more excoriating. My eyes wondered to every part of the dark forgotten forest. Every tree looked like a skeleton, and every noise brought more fear, because that means that the monster is near. Then I heard a desperate cry for life.
"Jane! Help me, I fell, I...I can't move"

At that instant I froze, my only thought is: survive. I gaze into Anna-Lee's eyes, she stares back into mine. She could see in my selfish face, and my dark sinful eyes: she knew.
"Please you know what he will do to me, please have some humanity!"

I start running and possess my eyes to look forward. All I could hear is the sounds of her cries and then the torture of her scream, which brought tears to my eyes and gruesome memory from my muddled mind. He'll definitely kill her, I know this, and he'll torture her to the bone before he does so. I know this, but I had no thought in my mind to turn back, it could be me.

I remember when he was burning her skin with hot metal, branding her like a cow. The smell was ghastly, almost suffocating me every time I breathed in and the screams where horrendous, it was unbearable to the ear. I begged, pleaded with him to stop, just to please stop. Words I soon regretted, he dragged me over put the contraption in my hand and told me to begin. The pain was indescribable. I created a rule that day, and no matter how I looked to Anna-Lee as a companion in this hell, I will do anything to survive.

I collapsed behind some bushes, no matter how my mind convinces myself to move forward, my body is not capable of it. Its bitter on the floor, something I have become accustom to, but the darkness still petrifies me. I have not heard his steps in awhile, it almost made me feel secure, almost. I wish I can just go home to my mom, and my dad. I start to weep; unfortunately there are no tears to shed. I'll will never get my life back, never hold the people I love in my arms and no matter how many time I ask no one is going to answer the question, "Why did this happen to me?"

Suddenly a crow hovers above me squawking at me, as though it is laughing at me. I start to bolt from the little energy I had left, it follows mocking me.
"Leave me alone."
My paranoia is getting the best of me, the crow distracts me, and I cave in to a rock that caught my foot. The crow lingers around me, it is no monster that I know, but it is tormenting me with its hilarity. Why does it laugh? What is it trying to say? Is it blaming me for Anna-Lee, suggesting I am the same, as the very monster who chases me or is it just laughing at my frigate fearfulness?

I guess it was sent to destroy me, because my ankle is torn, what I thought is a stick stuck into it, is actually my bone. Some rules just can not be upheld, especially in Hell. I close me eyes and to wait for death.

As I awake, I can see a glimmer of sun light; I grasped the tree behind me to lift myself up. It was so beautiful, I have not seen the sun's rays in so long a smile comes along my face, but I forgot beauty does not linger in my world anymore. His voice whispered in my ear. It is like someone is stabbing them with a syringe.
"I was watching you sleep, I want you to be all rested before we get started… Emily, look at me, LOOK AT ME!"
He appeared above me, and all I could see is his dark gleaming eyes. He blocked the sunlight. I bit my lip in till it bled. I looked away and the crow got his last laugh in. His sadistic pleasure began.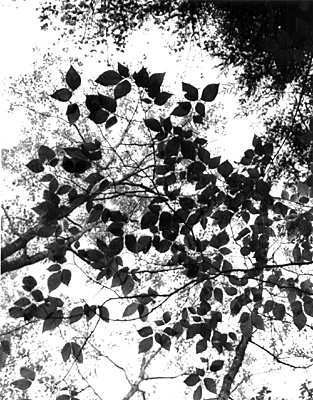 © Jen S., Schroon Lake, NY