Sprint
November 17, 2011
The boy ran. He didn't know if he was running to get away or to reach the end. All his life, he had run, traveling. He had no family; if he did, they would be left behind. He had nothing to accomplish, nothing to do but sprint. Sometimes it was lonely, but every once in a while, a dog would follow a mile or two.

The girl ran, too. She had once had a home, but it couldn't satisfy her need to keep moving. She was searching, but she didn't know what she was searching for. She missed her family sometimes, a mother, father, and an older brother. She was never lonely, though. She made friends, staying in a town for no more than a day or two. She left at night, but always returned at least once. She never said goodbye; it sounded too permanent. She never fell in love, but others fell in love with her.

As the girl and the boy ran, they wondered, "Is there anyone else like me? Is there someone else running, forever searching?" They both ran.

The boy found his way to a small town, and so did the girl. As they walked into a shop, their eyes met. And they ran together.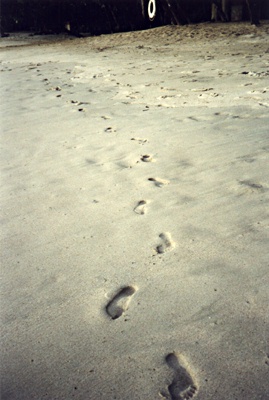 © April W., Rogersville, MO