The woods
December 21, 2011
Gazing down from the vast celestial sphere above my head, a beautiful globe of acrid burning gas. The ghost of a moon floats nearby in an ocean of cornflower blue. Chips in the scene disguised with the silhouettes of blackened trees; and closer still, towering wooden columns rise to lofty heights, cloaked in translucent strands of foliage. Shards of light puncture them. A web of symmetrical shafts.
Lush dewy grass bows under my weight, rich sandy soil filters through my fingers and delicate daisy waves crest and beach at the tips of my bare toes. A shoal of flowers quiver under orb-like dew drops. I balance one on the crest of my finger; my reflection caged inside the miniature crystal ball.
A cacophony of tangible life; fluttering hearts and padding paws is the unrivalled sound track. The air is heavily scented; piquant and floral, blighted only slightly by the bitter- sweet aftertaste of yesterday's malignant tempest. A thin carpet of crisp autumnal leaves rustle expectantly, convulsing in the soft breeze. Out of the blue a porcelain doe splinters the domineering peace; she shoots through the clearing pursued closely by a stag its features distorted, rearranged into a malevolent leer. Suddenly ruby blood flowers bloom on her flank; she catches frozen in her dying pose, and as if harpooned she folds and plunges downward. Taken by Gravity. Another solemn declaration of Mother Nature's. The stag erases the efflorescence with a scrape of is pitted tongue and with one last disdainful glance, saunters off.
A Stone Age flint lies capped with blood next to the dying doe. The bloody pillar box red clashing violently with the grass. Shaken, I marvel at each unique blade. A palette of verdancy: olive, pea, emerald, lime, avocado, pistachio, jade and bottle green. Their individuality invisible from beyond a short interval.
Mirrored pools brimming with cool transparent liquid show a rippling water colour looking pensive. Minnows flit around the watery image, clasping fins and pendulate tails, dancing; trapped beneath the glassy surface of the fish bowl.
Failing fingers of light hook and twine around the bones of decelerating animals like fraying puppet strings. The sky bruised a concentrated royal blue speckled with dismembered galaxies and pearly opaline stars. A sweet lull; consciousness ebbing away, in the nucleus of the woods.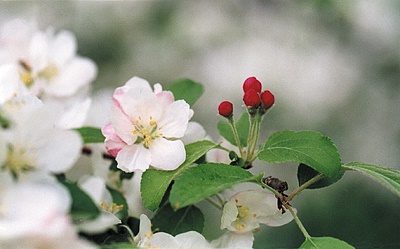 © April P., Newark, DE