She's Stronger Than She Seems (Make It Stop)
December 20, 2011
She sat on the floor of the bathroom stall, pressing her hands to her ears as tears streamed down her face. Her book bag sat at her feet, leaning against the wall. She took quick, light breaths between her almost silent sobs. Her head lay in her hands as she sat crunched up in the girls' restroom instead of being at lunch. Nobody would've noticed her absence anyway. Everyday, she sat by herself at a table by the window, silently eating her lunch and counting down the minutes until her next class.

She readjusted herself in her small solitude. She sat there, reflecting on all the names she'd been called, all the piercing stares she felt as she walked the hallways, and all the rumors that had been spread about her. The names stung like poison-tipped arrows. The cruel stares from her peers nearly suffocated her as she forced herself through the day. None of the rumors ever came close to be true.

Undoubtedly, her peers were ruining her life. Every Time she'd log on Facebook, there'd be new messages and notifications that included insults, put downs, and sometimes even death threats. She constantly had to remove signs from her locker that read words like "Loser", "Idiot", and "Waste of space".

She looked at her watch, wiped her sleeve across her face, grabbed her bag, and left the stall. She staggered to the sink, dropped her bag, and stared at her reflection in the mirror. A broken, disheveled girl stared back, her eyes red and puffy from crying. She wiped away a tear that was forming at her own broken reflection. She turned on the faucet, bent down, and splashed cool water on her face. She raised her head, breathing heavily, then wiped the water from her face onto her sleeve. Just as the bell rang, she picked up her bag, pulled out her untouched lunch, dropped it in the trash can by the door, and left her solitude to carry on through the rest of the day as if nothing was wrong.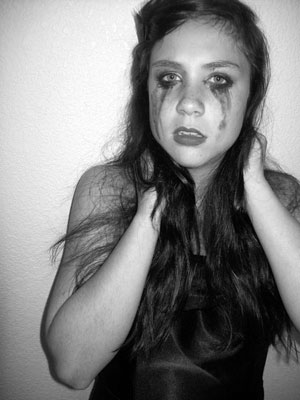 © Tiana D., Monument, CO