Baking Cookies
December 12, 2011
I got there this morning. The bright green of the trees, the scent of freshly chopped wood, the millions of stars in the cloudless night just reminded me that this wasn't home. I was supposed to be getting to the house that morning. But, I would have much rather stayed on the long, twisting dirt road forever.
The drive that I thought would be so long, was over just as soon as it began. I reached the front door of the house. I knew this house, but at the same time, I didn't. The dark blue of the shutters had faded, and the lawn was overgrown, with weeds spouting in every direction. I reached under a pot on the porch and probed for the key. It was still there.
I grasped for the front door and opened it. It still smelled like her. I could still remember the first time she helped me make cookies. They turned out burnt, but it was fun anyway. I thought I would always cherish those moments, but now, the only thing I want to do is forget.
I knew that I would have to spend months here. Just sorting through the things would take weeks alone. But first, everyone was going to come one last time. We were going to get together this summer, but when it happened, that seemed too long to wait. It was going to be hard for all of us, but I think they all knew the special bond that we had shared.
I reached the kitchen and slowly opened the door. The oven was open, and a cookie sheet was waiting on the counter. It looked like nothing was wrong, like nothing had happened. But I knew better.
I reached under the sink and pulled out a fresh roll of paper towels and some cleaning spray, and began to work. I tried not to think of all of the happy times that had happened right here, but the onslaught was too much to block out.
That couch was where she braided my hair. And that was where she sat and read me stories when I was sick. The torrent of memories overpowered me, and I dropped to my knees, head between my hands.
Before I knew it, people were flooding into the house. I knew why they were here, but I didn't bother to move. Someone placed a hand on my back, but I didn't care who it was. By now, tears were flowing freely, leaking out of my hands and dropping on the wood floor. Then, I smelled the cookies. Somehow, that just didn't seem right. Someone was baking in her oven, with her cookie sheet, and her spices.
I slowly dragged myself to my feet, catching a glimpse of myself in the mirror. My clothes were wrinkled and smudged, and my hair was a disaster. There were huge bags under my too red eyes and a trail of moisture marked the path of my freshly shed tears. But it didn't matter.
I slowly trudged to the kitchen, dragging my feet the whole time. I opened the door and walked over to the oven. Carefully, I opened it and grabbed the pan from inside. It was burning my hands, but I didn't care. I opened the trash can and dumped the cookies into it. Then, I trudged over to the counter and replaced the pan where it always was. I reached over and turned off the oven.
I didn't bother to take another look behind me. I knew exactly what I would find. There were too many memories here and no one seemed to care. Except for me. So, without so much as a word, I walked out of the house, slamming the door behind me. I wasn't coming back.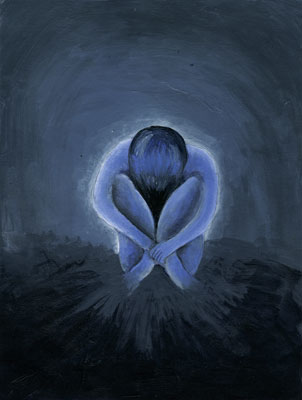 © Becky F., Sacramento, CA