Passion for Dance
December 3, 2011
It was little Isabel's first ballet class. She woke up very early that morning and insisted on trying on her perfectly, new, light turquoise tutu. And then she demanded that her mom do her hair. Her mom grabbed her dark brown, almost black, curly hair and pulled it back into a ponytail and tied it with a big turquoise ribbon. Even though her class didn't start for four more hours, she was completely ready. Little Isabel spent all day dancing and jumping. When the time finally came, Isabel ran to the car, where she had already put her bag and called her mom. As they drove to the ballet studio Isabel couldn't stop smiling.


When they arrived, little Isabel rushed out of the car and pushed her mom to the entrance. When she saw the ballet room her jaw fell wide open and she dropped her bag to the floor. She was delighted. Isabel began to jump up and down with a smile from ear to ear. She dropped to the floor and quickly started to put on her new ballet shoes. As she did so, all the little girls that were already there ran to see her pointe shoes. All of a sudden, Isabel found herself the center of attention. They all wanted to hold them, but little Isabel simply did not like to share. So, she screamed and then ripped one of the shoes from a little girl's hand and left.



A few minutes later the beautiful melody of "Reflections of Passion" began to play and the class began. As the teacher demonstrated what had to be done Isabel stared at the the teacher with her perfect blue eyes without even blinking. Wanting to start, Isabel couldn't wait to start dancing. So, as the teacher continued to demonstrate Isabel began to dance along. She twirled around and around as her eyes sparkled. She had created a beautiful choreography.


All the little girls gasped; they were amazed. Everybody clapped very loudly and little Isabel's little cheeks turned red. She smiled and bowed. She went running to see her teacher, who congratulated her and told her that someday she was going to be a great ballerina.


Little Isabel was in love with ballet. As soon as she heard any song, even those songs that had nothing to do with ballet, she would dance to it. She was always very hyperactive and happy when she got things to go her way. But, when things didn't go her way, she got really, really mad. She would scream and act crazy and her mother would always try to please her in any way she could when this happened.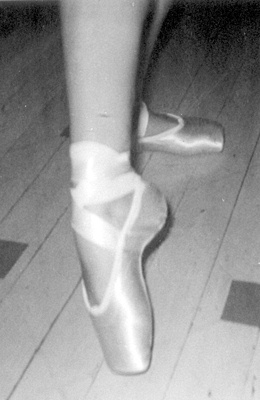 © Amelia B., Philadelphia,PA