The Liar Got Caught.
December 10, 2011
I wake up.
Something comes breaking through the window. It's a dead head, the shape of a rock. It's eyes look up, the texture and color of boiled eggs. I step back from those black irises with a bleeding heart. That thing is watching me…
I go downstairs. The milk, when I get it for my cereal that I never eat, spills across the floor. I curse, and I get in trouble.
My mother checks my bag, as I spend too long packing. She finds my switch inside, and looks at me with disdain. She takes the thing, and rolls my sleeves up. She finds nothing on my right arm, and everything on my left, red and blood, old and new scratched and etched into my skin. The pain so prominent, like exposed invisible ink. I look up at her, and inside her eyes and strained, fighting voice, I feel myself disowned. My heart grows warm and turns blue. As I walk out, with nothing but schoolbooks strapped against my shoulders, she slams the door with silver hatred behind me.
When I walk to school, I'm grabbed by the shoulder by someone old and inhuman. He-it- whatever owns those eyes, takes me and brings me to face him. He rips my backpack open. Things spill, and we stand, watching them. My eyes grow to engorge my face, seeing everything spill, and ring in the ears of everyone. All my lies and craftwork, they travel through the icy air and stun the people who trusted me. Who loved me. Who thought I was something I wasn't. All my lies, and all my dirty truths, revealed.
After an eternity of watching those truths take flight, the old man taks my shoulders again and points to the bus stop. There are two usual girls there, and they watch me. They see my cuts against my skin, and the old man, in red robe and carrying a blood stained scythe, walks me to the stop. No comfort is brought from the company. The girls regard me with stares. They step away.
"You know all her secrets now. Use them... as you wish," the man says, and burrows himself in my heart.
At school, everyone, the halls, the tiles, the receptionist, knows. They lose their respect for me. They know each one of my lies, and see me as something disgusting.
I am not allowed to use my first period desk, so I sit on the floor. Everyone's red eyes burn me, as they spend their allotted class time staring down at me. I hide my face.
I'm exposed. I never wanted to be exposed for the soul I am normally. I never wanted to be exposed like this.
Maybe I'll drown myself during some period. Or run.
In my specialized upper-level classes, they know more than that. They know I hate their program as well. Can I lie? No, they've all become immune to my lies. Each one takes their turn condemning me with their official voices that rule me, that I can't describe. It's the voice that is disappointed in me, that hates me, that shows its hate.
I can't take it. I cry, in front of all of them, my head in my hands. I'm slapped. Someone laughs. Someone pinched my butt. They're yelled at, but lightly.
I've lost the respect of my favorite teacher, Mr.S. He looks at me with disdain, hurt even. I turn, boldly, to my best friend, and she's not even there.
She's already killed herself.
I look, in raging horror.
And if I die, will she hate me eternally, or will I end up in he.ll? How can I ever redeem….There is no redemption for me.
I'm a walking sack of a tortured future and a present of unworthiness to exist.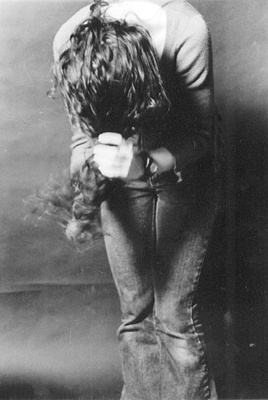 © Cerys W., Marblehead, MA