Unforgettable Nightmare
December 9, 2011
The date was Sunday, September 12, 1999. It had been dreary with an intermittent drizzle . My mother had warned me to stay inside, but I knew she would be none the wiser if stepped out. The day outside gave a sense of malaise, as if you had a rough night of sleep, and wanted nothing more than to return to bed. The birds even looked melancholy, as they flew close to the grounds' surface, and the trees were sagging as if bowing to the events to soon happen.

My mother, Lisa, as she preferred to be called, lived in a bubble that only covered herself. Lisa at the time was sinfully beautiful, with lengthy legs, and bleach blond hair. She had the perfect hour-glass shape, and manipulative behavior that had men bowing at her feet. She always made sure I was in my room and locked the door from the outside so that I couldn't interrupt the rest of her evenings. She always brought home different men every night, on occasion it would be more than one.

Lisa had a very severe drinking problem. She always had her stashes, and would act like what she was doing was completely normal behavior. Her sister, my Aunt Sue, tried to help Lisa, but by the time she found us again, Lisa was to far in her own grave. Aunt Sue had tried talking Lisa into letting me live with her, but she wouldn't hear it. Lisa needed me for when her emotions had become to strong, that the whiskey couldn't make them go away. It was these times, that I couldn't leave my mom because I honestly don't think she could function without me, but then Lisa would return, and I'd wish I would have left.

Every Sunday, Aunt Sue would call to make sure I was dressed and ready for church. She started taking me when she realized she couldn't help Lisa, but she was going to try to help me. She had even invested in a bible, and a journal for me so that I could read and keep my thoughts in a personal place. But on that gloomy Sunday, I knew something was wrong when Aunt Sue didn't call, and church was just about to be start. I had asked Lisa if I could call her, but she wouldn't let me, said she probably slept in is all. I knew that wasn't right since Aunt Sue always tried to be a church at least fifteen minutes early so she could visit with the elders.

When 9:45 turned into 10 o' clock, I asked Lisa if I could call her now, and I got the same response that she slept in late. I decided that since I wasn't going to church, I would just have one in my room. There was an old baptist hymnal in my room that came with the house and since I had been learning music, I decided to sing a few songs, just like church. I never understood the song the "Old Rugged Cross", and for some reason after singing it, I had started crying. I had been trained not to cry, so it shocked me that I had begun. I continued with my own little sermon, and when I was done, I decided to get into comfortable clothes and watch a movie.

It was about 12 o' clock, when someone knocked at the door. We never get visitors, and Aunt Sue has her own key so I found this quite odd. I went to the door, and when I opened it there were three officer's standing there, just getting drenched by the sudden torrent pour that came from a dark swollen cloud. I let them in, and when I told them were Lisa's room was, when they went up there, a social worker walked in. I knew what she was even before she had said anything, because I had been through this before. The only difference was my Aunt Sue wasn't behind her.

Usually my mom gets in trouble for something that happened at a bar, and my Aunt would come to take me to her house. This time she wasn't there. There was screaming and hollering coming from upstairs. One person brought Lisa down, while another has holding an evidence bag with a bloody knife in it. In another evidence bag, which was smaller in size for the small object that was in it, had a ring. I knew that ring. It was my Aunt's and she never took it off. Then the evidence came to me, and I realized what gruesome act had happened.

I knew last night Lisa was acting different then her normal self. She had more whiskey bottles laid out that were empty, and she locked me in my room earlier then usual. Lisa, had killed my Aunt, her sister, the only person I had. I overheard that she just meant to rob my aunt, but my Aunt Sue had awoken in the process, and Lisa had stabbed her thirty-seven times all over her body. Lisa then took her jewelry, and pawned some of it off so that she could buy more liquor, since her own stashes had been drained more rapidly then normal.

It's been sixteen years since that happened, and to this day I have not talked to Lisa since they took me away to a foster home. When people ask me about my mother I say she died in a house fire, because I know where ever she goes, she will burn and suffer for the pain that she caused me. I visit my aunts' grave every year on her birthday. I can't go there on her death anniversary, because every year on that day since that one morning, it has always been wrapped in rain and gloom, as of the world itself mourned.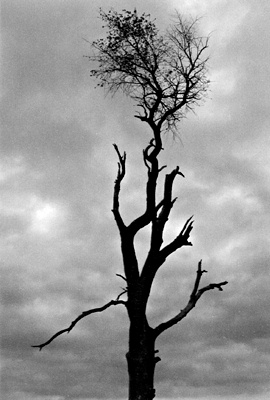 © Cassie H., Carmi, IL