The Only Way Out
November 23, 2011
In this barren land nothing grows, but twisted trees, and weeping willows. No one lives in this land but an old wretch, some sages, and those living in deaths cages. Crows flock everywhere, this land is their lair. The ground is made of grayish mud, the sky filled with a black sut,and the river is said to run with blood. If you happen to set out on a whim to this land of sin, you should know its a quest not many want to begin. I bid you luck as you set out on this endeavor, to make it in this land you must be cleaver.

Be Careful of the woods before the land, its said to be filed with lions, and quick sand. Keep your feet on the path, feel the load stone as you pass. Beware of the shadows they like to take alms of heads, legs, and palms. If your lucky to make it out safe, the lake will be ready to take the case. The lake fills the river in the land, it is the last place you may stand. The Blood Lake as it is called, for its red color make travelers become stalled. It is a lake filled with infamy, that's color flashes brilliantly. To plunder all is its goal, it is embedded in its very soul. If you pass the lake unharmed, you should shurley feel charmed. Only a few mile away lay the land which you seek, your journey is at its peek.

You know when you've entered the land, when you see the hearth, you will agree that its grand. You may bow in reverence at the hearth, seeing all that it is worth. Getting off of your knees you will see, what the land turned out to be. It is not a sight for sour eyes, it is a place that may make you cry. You shall witness the ruins of glorious houses, were now the only thing that dwells in them are large mouses. It was decreed years ago that nothing shall touch this land but rain and snow. This decree has held true, as the land screams at you. Ignoring the lands warning you press on, planning to stay for not very long. You begin to covet the sickly land, why would someone leave it you can't understand.

You explore more and more. You feel each feature is undefiled, as if it was a precise child. You are edicted to remain on the land, a new member to the da**ed. You are depraved from who you once where, all things but the land becomes a blur. You've become a member of the sages, soon a member in the cages. You become impotent, a victim to the incident. A care taker to the crows, and the effect shows. A friend to the old wretch, as she makes the crows play fetch. Your creeds has been changes, your life rearranged. But to you nothing is amiss, to you your life is filled with bliss.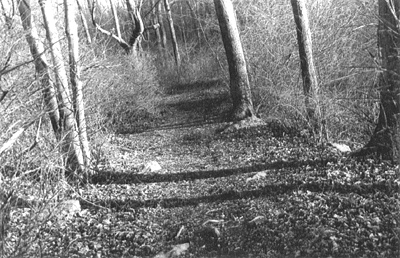 © Nicole N., Wilton, CT