Here I Am
November 25, 2011
Its funny how although everybody tells you to stay true to yourself, yet at the same time make reccomendations on how to better yourself. Do this, do that, its a constant cycle. Eventually you start feeling as if you not quite good enough yet. They'll tell you, oh you're perfect the way you are. Thier lies dont quite reach thier eyes, do they? You wonder and you wait, thinking when will you be good enough? The years, they pass in a flash. You'll see them before your eyes, flying away on wings of regret while you sit and wait to be just enough.

I have sat staring out the window, waiting for that moment. The moment I'll emerge from my coccon, bursting out giant butterfly wings. My face pressd to the glass, eyes closed, imagining future in which im loved by all, everybody happy including maybe even me. I'd hear my friends call out to me from outside my day dreams, thier voices just whispers in the wind. Maybe it was foolish of me to not have listened to them.

It took awhile, a few chapters of my book like life. Before somebody finally stopped and shook my shoulders, tearing me away. They looked me in the eyes, telling me everything before was lies. I curled into a ball like a child, closing my ears and my heart. Shutting down into an emotionless robot leaking tears of oily dreams. Yet they stayed, helping me up, step by step, unwittingly building my army. They reached out from a place i thought unreachable. Thier hands filled with unbelivable compliments and their eyes with unbidden, unasked for kindness.A smile fought so hard to come into play each day.

Nobody saw, or so I thought. I felt like a solider standing strong and tall, trying never to show the storms inside. I thought my smile fooled them all, shining its store bought happiness among the masses. I refused the compliments that i felt to be just more of the lies, untill someone forced them down my throat. I felt like running than and almost did. But some how some way those little lies to me, they planted a seed, somewhere deep in the soil of my heart. All though the sky outside the window which i had stared turned black from thier magic markers of hate, you all cleared the clouds covering my heart.

Suddenly my tears which had just been flooding, washing everything away, started watering the secret garden of my now beating heart. Little moments in which i suddenly felt alive appeared through out the pages of my story book. I stole the pen away from the monsters of my mind, scribbling out all thier lies. Why pretend like I'll ever be good enough for them? Instead I so proudly proclaimed, I'd rather just be good enough for me. I added pictures to my life story, drawing myself as the prettiest girl in the room. I was tired of feeling like the ugly duckling, always listening to the tales of the ugly on the outside. No, I looked my eyes in the mirror and played with my hair, realizing, oh I'm kind of pretty, before walking out under the sun. My heart and brain decided to read the writing on the wall, oh hey, they thought, maybe I'm kind of smart too.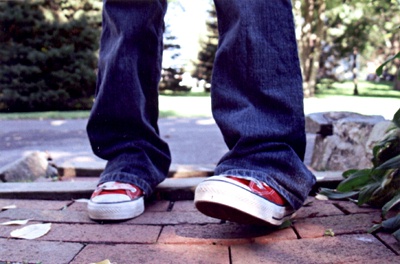 © Sara M., Milford, CT