Falling
November 7, 2011
I'm Isabel Gilmore; just a girl in high school trying to make it through the day. Sometimes it's hard to keep up with all the nonsense that the teachers talk about and expect you to do. But it's so hard. My mom told me that it was better to do it fast and then not have to think about it anymore. But it's so much stuff. My dad told me to work hard and study until my brain hurt, so that I could get a better nights' sleep. My mirror told me to fail. That face with dark circles under the eyes, with the hair flying all over the place; that pale white face that looked more dead than a lonely night.
I got back from school late that day, loads of homework yet an empty bucket of thrust. I just couldn't do it. I had nothing to eat, nothing to drink, and nothing to grab hold to that day. The world seemed to be slipping off and there was no way for me to hold on.
I would have rather listened to some music all afternoon, but my dad was in the room beside me; connected by a window; listening to everything I was up to. I felt like a painting. Those that just sit around lifeless, being watched and critiqued all day.
Not five minutes had passed when he came to check on me. Have you finished your homework? Did you wash the dishes? Can you make dinner? Will you this will you that. Come on; I had no space. Fortunately for me, mom came home early. She'd leave the keys downstairs, wash her hands, greet the maids, greet dad, and finally, she'd come to me.
But did she really? Who knows; I wasn't there to greet her.
I had left less than an hour ago. Left for good. I had no desire to stay at home, if that was really what this was. What was left for me there? Suffering, sadness, and disdain? It was too much to handle. I knew my dad would be melancholic when he found out, but he'd get over it soon. My mom though, that was another story. But I had no time to think about others. For the first time in many years, I had time for myself. No need to do homework, no need to be proper, and no need to pretend to be someone I wasn't.
I reached an unfamiliar building. Not entirely sure where I was, I climbed to the top. I didn't know where I was standing, but it felt alright. I looked up. I could see the stars from where I stood. That wasn't possible at my parents' house; I wasn't allowed to leave the room at night. I had never seen anything more alluring. I looked down. What I saw was the most beautiful thing there could be. I stepped closer to the edge of the building, seeking to get a better glimpse of the lights. The city was a Christmas tree, lighting a room, yet in this case, the night. I wanted to grasp them. But the roof top had reached its end, and all that was left between us two was an empty night.
The lights were astounding. I look down, seeking for more space; seeking for a path, yet there was nowhere to go. But still I walked.
I felt different. Was it relief, freedom? Was it fear? I wasn't sure.
I closed my eyes, and then it all turned black.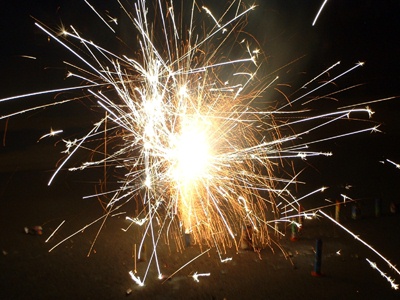 © Kevan B., Beaverton, OR