A Stir
November 11, 2011
Wait, what did you say, teacher? Write, I thought you said, not for myself—as you accused me of doing—but to address every groping ear, desperate for answers. But—teacher, don't leave me! —but what if they don't want my answers? My answers don't even fulfill me, so I can't vouch for how they might impact/move others.


Sorry, teacher, didn't mean to talk out of turn. Yes, yes, I trust your judgment and will follow the format on the board. Yes, yes, shutting up now.


Wait—but—teacher! Just one more query. Forgive my ignorance, but how does one write for a crowd, as you put it? Yes, I will of course be able to stir emotion from them, but that also includes boredom and offense. By no means would I offend someone intentionally, but I will, of course I will. As sure as I breathe, every breath I take must offend someone. Just as certain as I can rally the victors, I must trumpet failure in the losers' faces to make the triumph twice as sweet. And vice versa: glorifying gallant losers discredits just victories.


Oh…got it. But, who are these small people you say I should try to relate to? How many people will raise their glass to being called a small person? They probably think of themselves as quite big. And relate to them… that's one heavy request, teacher. How can I put myself in their shoes and describe their lifestyles when, big or small, they do not fit my own? I can't be their demagogue because I don't wholly belong to either of them. Teacher, you are forcing me to take stereotypes by the horns. What should I do with them? Prove them? Well, I better go into witness protection service until my last breath to save myself from outrage streaming at me from every crevice. Dis-prove them? Dear goodness, that would be just as bad. I can't overlook that there is something terribly sad and true at the root of all slander.


No, no, no, teacher, of course I'm not dodging my assignment. If I could touch the heart of every wretched fellow creature and extend a hand to them through my pen, I would and I would never let my pen stop until it could rewrite every shadowed eye, every burdened back, every restless mind. So, teacher, I shall do what you ask, but I shall distrust every syllable even if you think it rings of music. You ask me to complete an impossible task that far better men, who actually had the bleeding heart conviction behind their actions, failed.


Why are you rolling you eyes? Please don't. I swear, I heard you. Bang it out in a day. Only an idiot couldn't—well teacher, out of the closet I come: I am an idiot. This assignment—over the last years I can say I've met about a hundred people here, and by met I mean I've said hello in passing. Of that hundred, only fifty would I ask about the weather, and of the fifty, only ten could I have a life changing conversation with. Now, this is crude of my judgment—yes, it's very kind of you to shake your head in disagreement, but it is crude. Every stinking one of these people who form our world bulk that my acquaintances make a piece of pie hardly enough to fill a starving child are capable of creating a life changing experience. I simply have never been exposed to them, nor they to me.


No—teacher, I swear, this has nothing to do with having cold feet with this assignment, but this is too big to be dismissed as just an assignment. I already committed to writing this but—teacher you told me I needed only to "write from my heart and experiences. People will relate to heart and common experiences." But—teacher—I'm so confused right now. I apologize, but I don't understand: could you…define common experience for me? So common can be substituted for…everyday, something everyone shares. But—I'm still—teacher, this sounds…wrong. We are not…statistics with a set pattern of what will bring us of age. That .000000000000001% is enough proof for me that the law of nature wavers and for the 99.999999999999999%—they sure would hate being homogenized into a blandly milk majority. Perhaps…one of that 99.999999999999999% is only 3/5 with the grain, and 2/5 unsure…at least I'd like to think so. My "heart"—as you put it—will not match at face value because how can I truly know these masses? It would be truly fantastic, but to know anyone, I would have to get in his or her heads. And if I got in their heads, how could I write anymore? I write what I don't understand, with my voice of confusion. The masses are…masses. I want to relate to them personally, be able to give each mass the face they deserve, but if I did…I won't be able to—


What did you say, teacher? No, yes, I do have the eyes I was so fortunately blessed with just like everyone else—yes, my vision is quite good—dear goodness, is that the time! Sorry I took up—yes, yes, let me help you with that. My apologies, my most sincere apologies, I did not realize—



Teacher, is there something in your eye? I think I sense a dust speck of doubt. Teacher, forget what I said. Yes, I finally bow down to your perception that I'm just trying to worm my way out. Yes, yes, teacher, think up all the nice niches that float your boat. No, no, of course—you can rely on me. Tomorrow, I swear, typed and printed and on your desk, will be my graduation speech, ready to be flung at the masses and stir their hearts into something.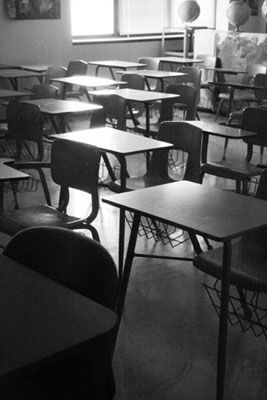 © Sean C., Princeton, IL