My Big Chance
October 28, 2011
What is it with people and their in-laws? They treat them like they're monsters, about to jump out from the closet or from underneath the bed.

"Look Tawni. I really need to get going to my wife's parent's house. I'm putting a lot of trust in you by leaving you alone in the school. Bring me back the keys Monday morning." He looked at me with large, pleading eyes, as if saying "My life depends on you. Oh, and what my father and mother-in-law think of me."

I sighed. "Yeah, sure. I'll bring them back on Monday. And I promise not to touch anything." I said smiling, trying to comfort my theater teacher, Mr. Hansen.

He looked as though he didn't have time to smile at me. He just stood up, handed me they keys, and ran out the door as quickly as I had ever seen anyone move.

I had come back to school on a Saturday to work on a set for our school musical, Seussical. I was a small, ensemble roll that had no real reason to be in the show. The thing that really irritated me about the show is at the beginning of the year Mr. Hansen had said "I will only base your roll off of your performance this year. You all start with a clean slate." However, numerous people were not given lead roles because they didn't do as well this year. Including me. Which means we all did not start off with a clean slate.

Honestly, last year, I was fantastic. I saved our small, Theater 1 performance from rolling over and dying in a hole. People from my class said their parents told them they should have done as well as me in our performance. And now, here I was. During our "Seussical" show I would be walking around like a monkey singing "Ooh, ooh wa-da." in the background. The role of a small ensemble actress.

Without realizing where I had walked, I realized I was in the middle of the stage. "its fate!" I thought to myself, then laughed out loud, closing my eyes and throwing my head back.

This time, when I looked back at the audience, I didn't see empty seats. They were filled with people. So many people that some were standing in the back, or along the sides. There were lines out the doorway. People holding roses, chocolate, signs that read "We love Tawni!" They were all smiling. Smiling so big, it looked as though they had never felt the cold, hard, stab of sadness. Smiling so big, I couldn't help but smile right back.

I looked down and realized that I was no longer wearing my torn jeans or baggy T-shirt. I was in a large, white, sparkling ballgown. Somehow I knew, they were waiting for me to open my mouth, and sing.

I heard a piano start to play and recognized the tune. One of my favorite songs, "Chasing Pavements" by Adele. I began singing. Singing with all my heart. I gave it so much that tears welled up in my eyes. But I kept going.

It was then that I realized this is what I wanted to do. This is where I wanted to be. The stage was one of the only places that I was happy, and comfortable.

I reached the chorus of the song. I closed my eyes, reaching every note perfectly. My voice, oh my voice sounded beautiful. Better than ever, better than anyone ever thought. Especially Mr. Hansen.

Then I was interrupted, by loud clapping. I opened my eyes. The people, the dress, the roses, the chocolates, the loving signs, they were all gone. There was only one person there, and he was sitting in the front row.

I gasped. "M- Mr. Hansen..." I said, embarrassed.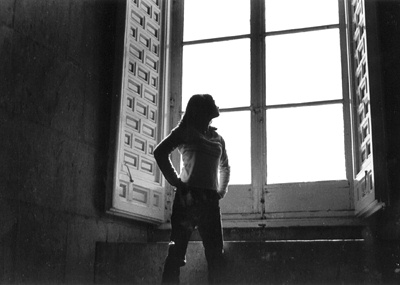 © Danielle W., Marblehead, MA