People in the City
October 13, 2011
When I turned five years old, my mother decided to move us from our small farmhouse in Kentucky to an apartment on the edge of New York City. It was a decision that would impact my life greatly, mostly for the better. Now, ten years later, I am still living in the same apartment with my mother. We're much happier now, and that's because of all the wonderful people we know. We were lonely in Kentucky, but here in the City we have connections with all kinds of people we talk to every day. Sometimes, as I sit at my apartment bedroom window and look at the busy streets below, I remember how I felt when we first entered New York City and first saw the ubiquitous crowd of people.
We moved the summer of my fifth birthday. It was a long drive northward, and when our moving truck finally entered the first streets of the City I excitedly stared out the truck's rusty window at the busy narrow street, transfixed by the thousands of people.

At the time, it wasn't the towering skyscrapers that held my attention, nor the flashing lights on the advertisements lining every street. It wasn't the greasy smell of hot dogs and popcorn, or the expensive-looking boutiques crowded along the littered sidewalks, or even the green tip of the Statue of Liberty's torch that appeared as our truck rounded another block.

What I noticed most of all were the people. I was barely five years old then, and naïve. The biggest group of people I was accustomed to seeing was a line of fifteen people at our local super market checkout. But driving in the heart of New York City, I saw masses of people around every corner, pushing past each other and walking and pushing again. They seemed completely different, too, so much different than anyone I was used to seeing.
I noticed the skin colors first. There were black and white, the only skin colors I thought existed, but among the black and white dots were blurs of olive, dark brown, freckled white, and mixes of colors I'd never seen before. I remember glancing down, confused, at my own plain, white skin, the color of almost everyone else's back home.

The differentiation between me and many of the people streaming by didn't stop at skin color. Some of their clothes were different, too. I saw what I know now to be rebozos and skirts from Mexico, highland dresses and plaid from Scotland, and turbans and robes from the Middle East, all of which seemed much more unique than my boring shirt and jeans.

Among the melting pot of people from all over the world, there were people who resembled me and my family. People who had similar skin, dress, and looks. But I didn't notice those people; the people who stood out to me were the people who looked nothing like my mother and I.

I didn't know what to make of them, so being the little girl I was, I asked my mother the unanswered questions that were swirling around in my head. Who are all these people? Why are they so different? Why does he look like that? How come they are wearing that? And I asked what I thought was the biggest question of all: Why aren't they like us?

Once I finished my spiel of questions, my mother turned to me, then to the people outside, and smiled.

"We live in a world of diversity, little one. There are all kinds of people, especially here in a city where many types of people live together."

"Diversity? What's that?" I asked.

"Well, in people diversity means a variety of all kinds of people, young and old, black and white, and all the colors in between. And from countries all over the world."

It was a good answer, and it satisfied me for a while as I sat looking out the window at hundreds of new faces I saw as my mother drove through dozens of streets, nearing our apartment on the outskirts of the city. I still had one question to ask; however, so I tapped my mother on the shoulder.

"Mother, are there people who are exactly the same?"

My mother never answered that question, just raised her eyebrows and smiled at me. I shrugged and continued staring out the window. I looked at the people some more; really studied their faces as they streamed by our truck. All kinds of people, all kinds of faces. All of them different.

By the time we reached our new apartment building, I had answered my own question.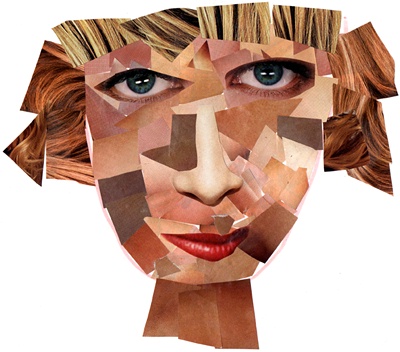 © Maghan D., Athens, AL