The World is Flames
October 17, 2011
The world is flames, in flames, from flames. It is born of and slaughtered by fire, both blessed and cursed by the twisting, dancing ribbons of orange and yellow. They roar with wrath and purr with cleansing.

There is no option of escape, no way to float up and out of harm's way like a fairytale princess swept away by her prince, or a knight's smoke-black horse flying off to the horizon. There is no way to fight something so all-encompassing, yet so immaterial, that in the times when it isn't the very embodiment of reality it could be an illusion.

There is no possibility of surrender, no way to lose a battle that cannot happen. The illusion may extend for eons, but reality will eventually break through with all its fresh horror and piercing cries and suffocating blackness; and it will erase the semblance of safety and love, burn the lie to ashes and reveal the truth. Or the illusion may come in chronic bursts, shattering reality into a million jagged pieces poised to impale from behind every door and around every corner.

There are no options but silent madness; taking in but never releasing shrill screams of agony separated not by breaths but by pleas for aid.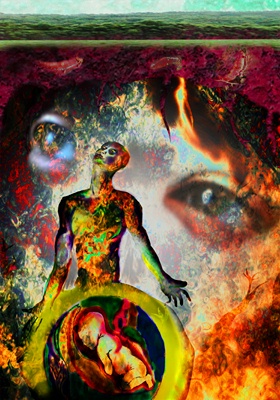 © Tom M., Philadelphia, PA